Big Declines in Grains This Week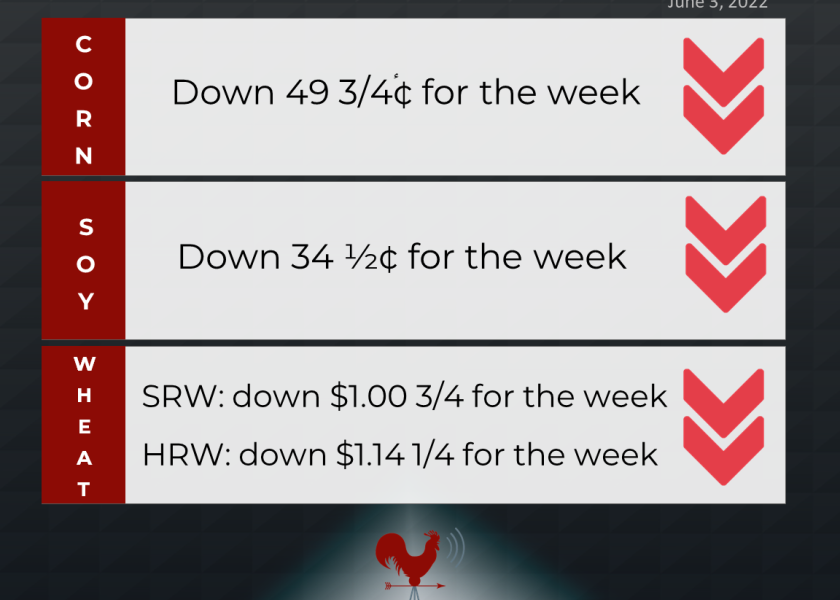 Corn: July corn futures fell 3 1/4 cents to $7.27, down 49 3/4 cents for the week and the lowest closing price since April 1. December corn fell 4 1/4 cents to $6.90, down 40 cents for the week and a two-month low. Corn slumped to two-month lows as a favorable crop outlook and spillover pressure from a steep downturn in wheat fueled active long liquidation across the grains.
Soybeans: July soybeans tumbled 31 1/2 cents to $16.97 3/4, down 34 1/2 cents for the week and the contract's first weekly decline in the past four. November soybeans fell 14 3/4 cents to $15.27, down 17 cents for the week. Continued weakness in corn and wheat could pressure the soy complex next week, along with expectations for another jump in U.S. planting progress.
Wheat: July SRW wheat fell 18 1/4 cents to $10.40, down $1.00 3/4 for the week. July HRW wheat dropped 22 1/2 cents to $11.21, down $1.14 1/4 for the week. July spring wheat fell 7 3/4 cents to $11.91 3/4, down $1.13 for the week. Winter wheat futures fell a third consecutive week amid active long liquidation driven in part by prospects for an agreement to allow grain exports from Ukraine.
Cattle: August live cattle fell 27.5 cents to $133.85, up $1.45 for the week. August feeders ended at $173.875, up $7.55 for the week. Live cattle gained this week behind signs of strong retailer beef buying following the Memorial Day holiday weekend. A firmer wholesale beef tone helped lift cash prices from early-week lows, though the weekly average likely will still decline from last week.
Hogs: July lean hogs fell $1.425 to $110.75, down 97.50 cents for the week. Hog futures fell in a corrective pullback from the recent rally, though cash fundamentals remain solid. The CME lean hog index was rose 12 cents to $105.03, the 10th gain in 11 days and the highest since last August.