Cattle Rally to 6-Week Closing High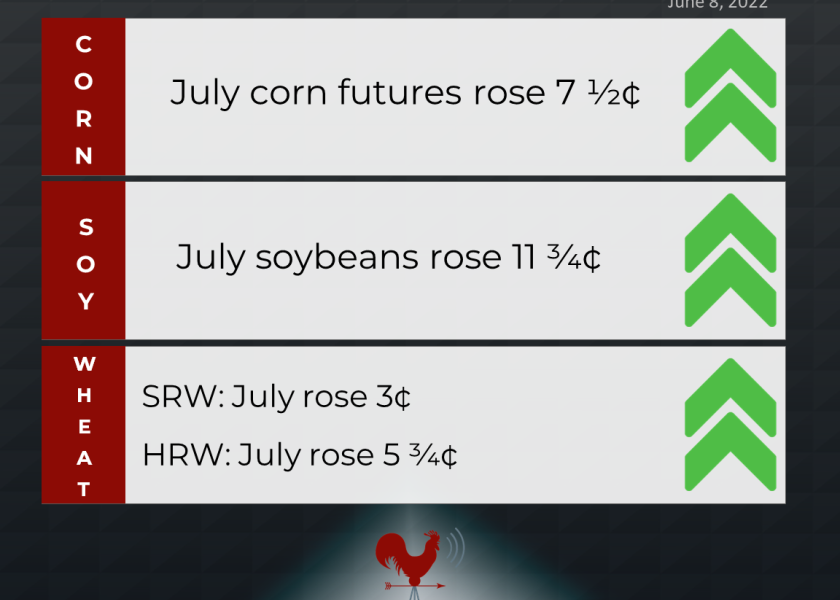 Corn: July corn futures rose 7 1/2 cents to $7.64 1/2, the contract's highest closing price since May 27, while December corn rose 3 3/4 cents to $7.17 3/4. Corn futures rose for a third consecutive day on support from firm cash markets, ongoing concern over tight global supplies and optimism over demand. USDA, in Friday's monthly Supply and Demand update, is expected to slightly reduce its estimate for U.S. corn supplies at the end of the 2022-23 marketing year.
Soybeans: July soybeans rose 11 3/4 cents to $17.40 after posting a contract high. July soymeal fell $1.80 to $415.60. July soyoil rose 150 points to 82.94 cents. Soybeans futures extended recent gains behind strength crude oil, bullish demand fundamentals and concerns over delayed planting in the northern Midwest.
Wheat: July SRW wheat rose 3 cents to $10.74 3/4. July HRW wheat rose 5 3/4 cents to $11.55. July spring wheat rallied 7 1/4 cents to $12.34 1/2. Wheat futures markets were supported by strength in corn and soybeans and skepticism whether Russia would allow a resumption of grain shipments from Ukraine.
Cattle: August cattle rallied $3.40 to $137.525, a six-week closing high. August feeders surged $3.20 to $175.65. Cattle futures rose sharply amid signs a four-week slide in cash prices may be ending. Sources reported cash trading about $1.00 above week-ago levels in primary feedlot areas.
Hogs: July lean hogs fell $1.325 to $107.95, the contract's lowest closing price since May 25, while August hogs fell $1.20 to $105.90. Hog futures tumbled to two-week lows on eroding chart patterns and signs recent cash market strength may be topping out.