Corn and Soybeans Rally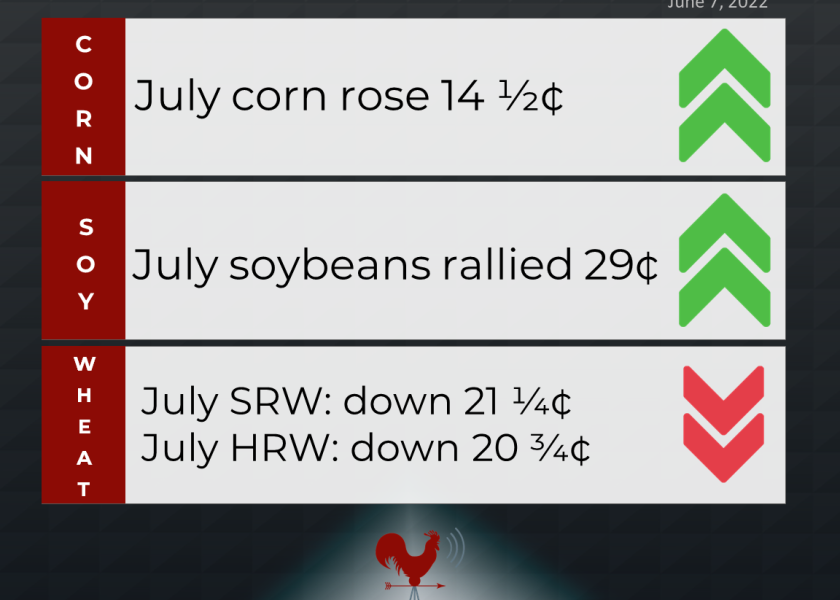 Corn: July corn futures rose 14 1/2 cents to $7.57. December corn rose 11 1/2 cents to $7.14. Corn futures climbed on short-covering and bargain hunting in the wake of last week's declines, supported also by firm cash markets. USDA, its first condition ratings, rated the crop 73% "good" or "excellent," up from 72% in those categories a year ago and about 5 percentage points above expectations.
Soybeans: July soybeans rallied 29 cents to $17.28 1/4 and November futures rose 16 1/4 cents to $15.49 3/4. August soymeal gained $8.50 to $409.80. August soyoil rose 11 points to 79.60 cents. Soybeans gained on active fund buying, a firm cash market and bullish demand news. Official Census Bureau soybean export data for April came in stronger than USDA data implied.
Wheat: July SRW wheat fell 21 1/4 cents to $10.71 3/4 and July HRW futures fell 20 3/4 cents to $11.49 1/4. Profit-taking forced wheat futures to give back a part of Monday's sharp rally, with pressure also stemming from greater optimism for a restarting of Ukrainian grain exports amid reports Russia said two of the major ports were open for shipments.
Cattle: August live cattle rose $1.225 to $134.125 and August feeders rose 47.5 cents to $172.45. Live cattle rose as recent strength in wholesale beef stirred hopes the cash market will break a four-week slide. Choice beef cutout values rose $2.12 early today to $271.70, the highest since mid-April.
Hogs: July lean hogs rose 30 cents to $109.275. Hog futures stabilized after two straight weaker sessions with support from strong cash fundamentals. The CME lean hog index rose $1.29 to $107.34 (as of June 3), the highest price since last August, and the next quote is expected to gain another 46 cents.