Corn Ends at 2-Week Low, Soybeans Also Lower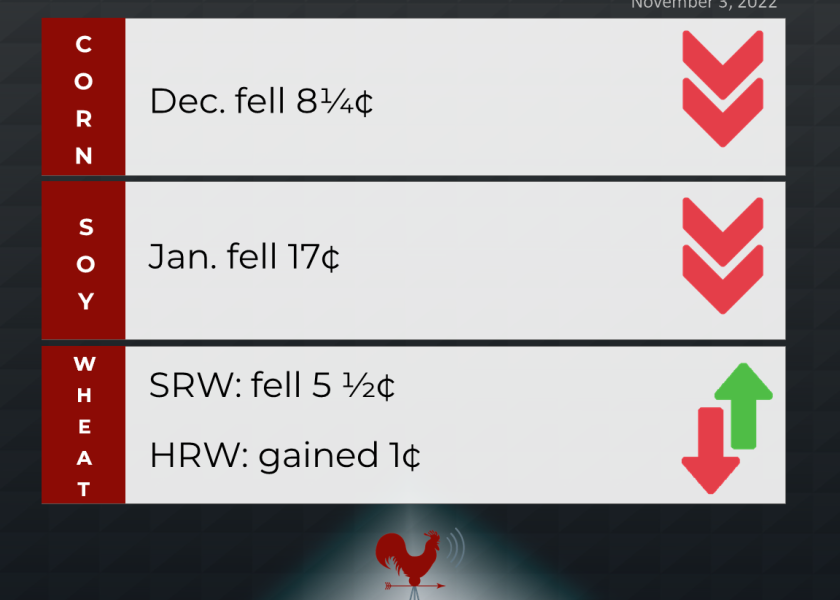 Corn: December corn fell 8 1/4 cents to $6.79 1/4, the contract's lowest close since Oct. 19. Corn ended at a two-week low as Russia's decision to resume participation in a deal allowing grain exports from Ukraine eased supply concerns. Grain futures were also pressured by a soft export pace, as well as weakness in crude oil and U.S. equities.
Soybeans: January soybeans fell 17 cents to $14.37. December soymeal fell $10.20 to $414.30. December soyoil fell 32 points to 75.29 cents. Soybeans fell for the first time in eight sessions as profit-taking emerged following Wednesday's climb to six-week highs and weekly exports came out at the low end of expectations.
Wheat: December SRW wheat fell 5 1/2 cents to $8.40 1/2, the lowest close since Oct. 28. December HRW wheat gained 1 cent to $9.41 1/4. December spring wheat fell 6 1/4 cents to $9.43. SRW wheat hit a low for the week as Russia's reversal of a decision to leave the Ukraine export agreement eased supply worries.
Cattle: December live cattle futures rose 55 cents to $151.95. January feeder cattle dropped 57.5 cents to $179.425. December live cattle futures rose for the first time in six sessions as cash trading picked up, with the Monday-Wednesday average gaining $151.79, a $1.30 rise from the week-prior figure.
Hogs: December hogs rose 7.5 cents to $83.375, after falling earlier to the lowest intraday level since Oct. 17. Nearby lean hogs erased early declines and posted modest corrective gains, though prices closed near today's lows and cash fundamentals continued to soften. The CME lean hog index fell 46 cents to a two-week low of $93.29, the fifth drop in the past six days. Friday's index is expected to drop another 95 cents to $92.34.