Corn Ends Higher; Soybeans Firmer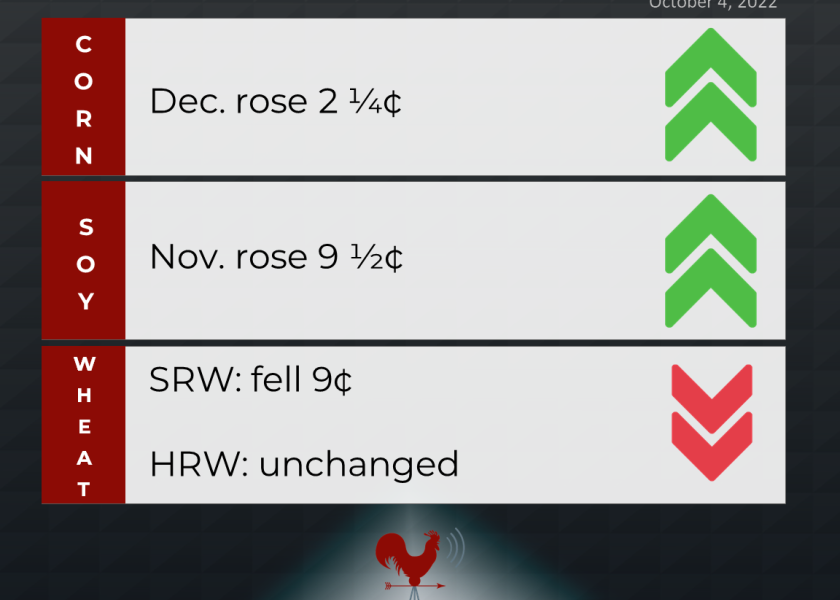 Corn: December corn rose 2 1/4 cents to $6.83, the highest close since Sept. 22. USDA's harvest progress update fell short of trade expectations and concerns lingered over disruptions of Ukrainian supplies. Outside markets also supported grains, with crude oil briefly rallying over $4 near a three-week high and the U.S. dollar index dropping over 1,500 points.
Soybeans: November soybeans rose 9 1/2 cents to $13.83 1/2. December soymeal fell $3.80 to $401.5. December soyoil gained 168 points at 65.02 cents. Soybeans gained on continued corrective buying and support from strength in corn, crude oil and soyoil, but gains were limited by weakness in soymeal, which ended at a seven-week low.
Wheat: December SRW wheat fell 9 cents to $9.03 after rising earlier in the session to $9.27. December HRW wheat ended unchanged at $9.88 3/4. December Spring wheat fell 3 3/4 cents to $9.76 1/4. Wheat futures faded from overnight gains and ended mixed in part on continued corrective selling and profit-taking following the market's recent rally near three-month highs.
Cattle: December live cattle fell 52.5 cents to $147.50. November feeder cattle dropped 85 cents to $175.20. Cattle futures fell amid concern over demand as an ongoing slump in wholesale beef indicates packers must slash prices to keep product moving.
Hogs: December lean hog futures plunged $3.30 to $74.425, the contract's lowest closing price since Dec. 9. Hog futures plunged to 10-month lows amid slumping technicals, weakness in cash fundamentals and concern over near-term pork demand.