Corn Futures Drop Amid Harvest Pressure, Lackluster Exports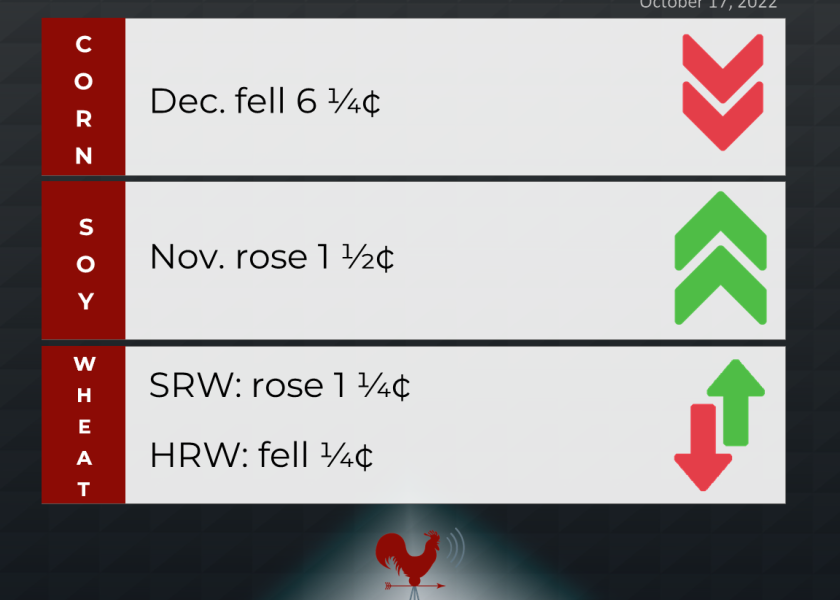 Corn: December corn fell 6 1/4 cents to $6.83 1/2, the contract's lowest closing price since Oct. 7. Corn was pressured by the expanding U.S. harvest and concern over export demand. USDA reported 448,423 MT (17.7 million bu.) of corn inspected for export during the week ended Oct. 13, down from 457,366 MT the previous week but within trade expectations ranging from 375,000 to 625,000 MT.
Soybeans: November soybeans rose 1 1/2 cents to $13.85 1/4, though deferred contracts ended with small declines. December soymeal fell 10 cents to $411.00 and December soyoil. The soy complex ended mixed as pressure from the U.S. harvest and an outlook for strong South American production muted bullish impact from signs of strong exports.
Wheat: December SRW wheat rose 1 1/4 cents to $8.61. December HRW wheat fell 1/4 cent to $9.52. December spring wheat rose 1 cent to $9.55 1/4. Wheat failed to sustain overnight gains and ended mixed, with some pressure from reports the United Nations said discussions will continue on extending and expanding a U.N.-brokered deal to continue grain shipments from Ukraine's Black Sea ports.
Cattle: December live cattle rose $1.425 to $149.20, the contract's highest closing price since Sept. 22. January feeder cattle rose $2.15 to $177.25. Live cattle futures climbed near a four-week high behind strengthening charts and expectations cash prices will extend the past two weeks' strength.
Hogs: December lean hog futures rose $2.70 to $84.95, the contract's highest close since Sept. 22. Hog futures extended the sharp rally over the past two weeks behind bullish technicals and signs of improvement in cash market fundamentals.