Corn Futures Drop Fourth Straight Session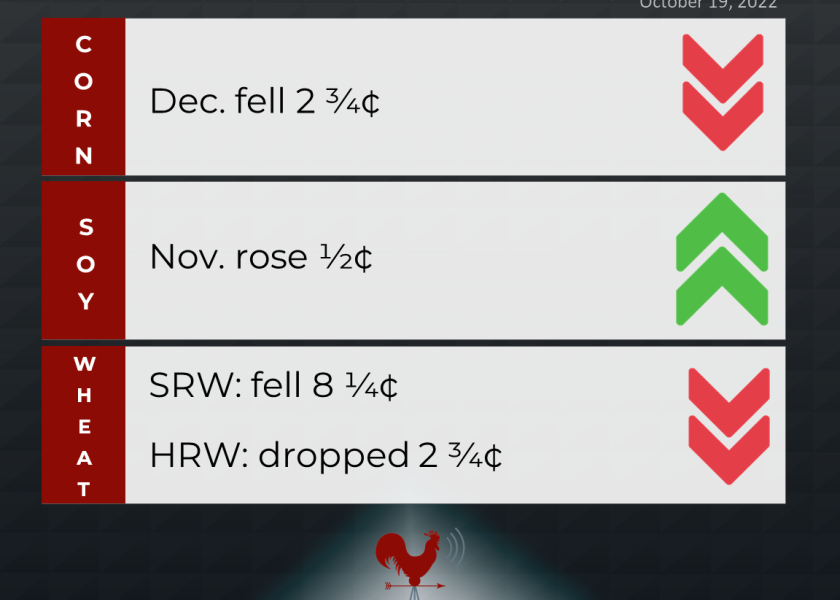 Corn: December corn fell 2 3/4 cents to $6.78 1/4, the contract's lowest settlement since Oct. 6. Corn fell a fourth consecutive session on expanding harvest pressure and concern a strong U.S. dollar will crimp export demand.
Soybeans: November soybeans rose 1/2 cent to $13.72 1/2. December soymeal fell 10 cents to $401.70. December soyoil rose 190 points to 70.64 cents, the contract's highest closing price since June 17. Soybean futures rebounded from initial weakness to post modest gains behind strength in crude oil and soyoil.
Wheat: December SRW wheat fell 8 1/4 cents to $8.41 1/4, a four-week low. December HRW wheat dropped 2 3/4 cents to $9.41 3/4. December spring wheat fell 2 1/2 cents to $9.53 1/2. Wheat was pressured by dollar strength and slumping technicals as traders watched for updates on a deal allowing Ukraine grain shipments.
Cattle: October live cattle rose 87.5 cents to $149.35, the highest close for a nearby contract since August 2015. December live cattle jumped $1.575 to $151.35, a two-month high. November feeder futures advanced 25 cents to $178.075. Cattle extended a recent rally on expectations for further cash market strength.
Hogs: December lean hog futures rose 90 cents to $87.375, the contract's highest close since Sept. 20. Hog futures ended at the highest levels in over four weeks on strong technicals and strengthening cash fundamentals.