Corn Futures Drop Near Two-Week Lows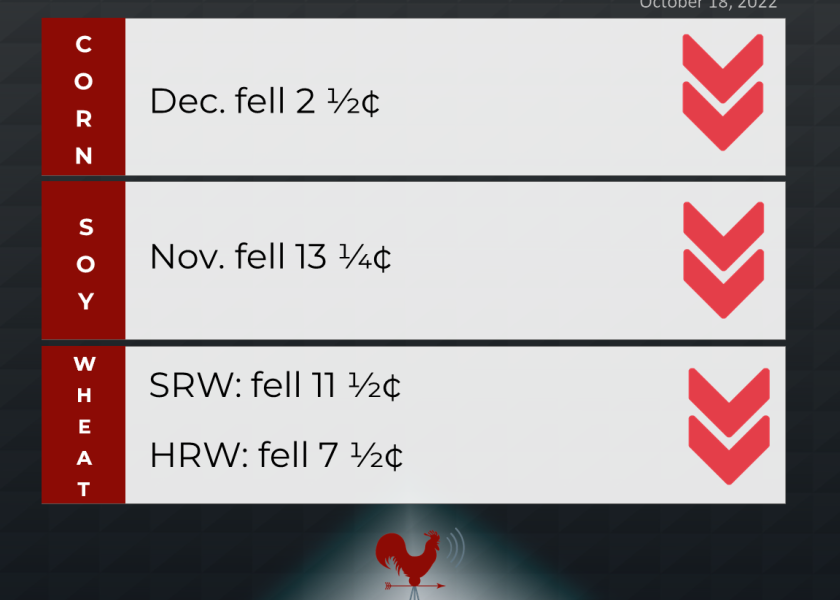 Corn: December corn fell 2 1/2 cents to $6.81, the contract's lowest closing price since $6.75 1/2 on Oct. 6. Corn futures fell a third consecutive day on pressure from the expanding U.S. harvest and spillover weakness from the wheat and crude oil markets.
Soybeans: November soybeans fell 13 1/4 cents to $13.72, the contract's lowest settlement since Oct. 7. December soymeal fell $9.20 to $401.80. December soyoil rose 190 points to 68.74 cents, the highest close since June 21. Soybeans were pressured by a brisk harvest pace across the Midwest, slumping soymeal and concerns over waning exports.
Wheat: December SRW wheat fell 11 1/2 cents to $8.49 1/2, the contract's lowest close since $8.30 1/2 on Sept. 19. December HRW wheat fell 7 1/2 cents to $9.44 1/2, a three-week low. December spring wheat rose 3/4 cent to $9.56. SRW wheat fell for the fourth session in the past six on slumping technicals, dollar strength and easing concern over Ukraine supplies.
Cattle: December live cattle rose 57.5 cents to $149.775, the highest closing price since Sept. 21. November feeder cattle rose $1.425 at $177.825. Cattle futures were supported by improving cash market fundamentals and bullish technicals.
Hogs: December lean hogs surged $1.525 to $86.475, the contract's highest close since Sept. 20. Hog futures extended a sharp rally to four-week highs amid optimism over demand and stronger cash fundamentals. The CME lean hog index rose 26 cents to $93.35 (as of Oct. 14), the fourth gain in the past six days, though it's expected to fall 16 cents Wednesday.