Corn Futures Fall to Six-Week Low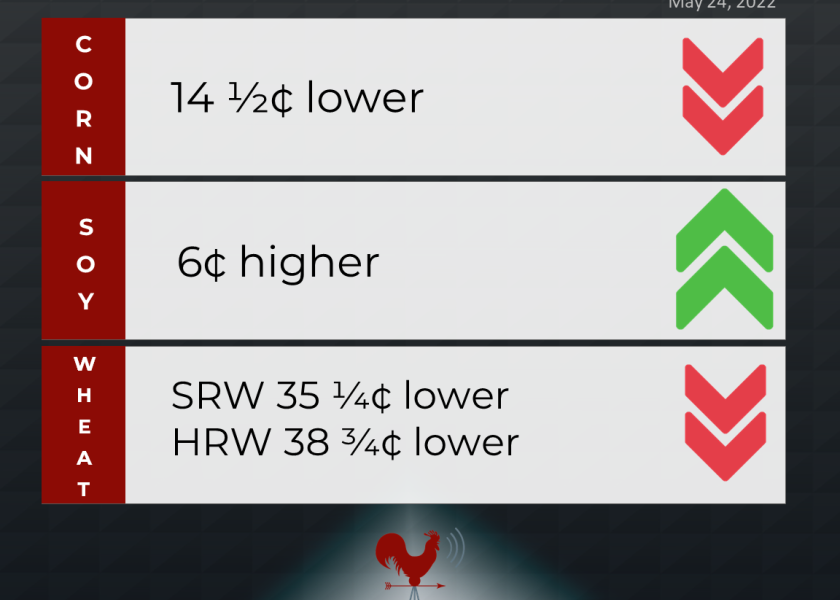 Corn: July corn futures fell 14 1/2 cents to $7.71 3/4, a six-week low. December corn fell 13 3/4 cents at $7.25 1/4, a two-week low. Corn futures fell after USDA reported a larger than expected increase in U.S. corn-planting progress last week. 
Soybeans: July soybeans rose 6 cents to $16.93. November soybeans fell 1 1/4 cent to $15.17 1/2. July soymeal rose $4.60 to $427.10 per ton, while July soyoil fell 35 points to 80.12 cents per pound. Soybeans ended mixed following two-sided trading, with spillover from sharp declines in corn and wheat muted by concern over slow U.S. plantings and concern over tight global vegetable oil supplies.
Wheat: July SRW wheat fell 35 1/4 cents to $11.54 3/4, the lowest closing price since May 11. July HRW wheat fell 38 3/4 cents to $12.37 3/4, also a two-week low. July spring wheat fell 21 1/4 cents to $12.77 1/4. Winter wheat futures plunged after USDA reported modest improvement in crop conditions, with funds selling heavily as charts eroded amid signs of a major market top.
Cattle: August live cattle fell 22.5 cents to $132.75, while August feeder futures gained $2.525 to $168.15. Strength in wholesale beef supported live cattle futures. Choice cutout values rose 64 cents early today to $264.92. 
Hogs: July lean hogs fell $1.80 at $109.05. Futures fell on corrective profit-taking in the wake of sharp recent gains, thought improving cash fundamentals should limit downside. The CME lean hog index rose 91 cents to $102.08 (as of May 20), the fourth straight daily gain and a two-week high.