Corn Futures Sink to a 6-Month Low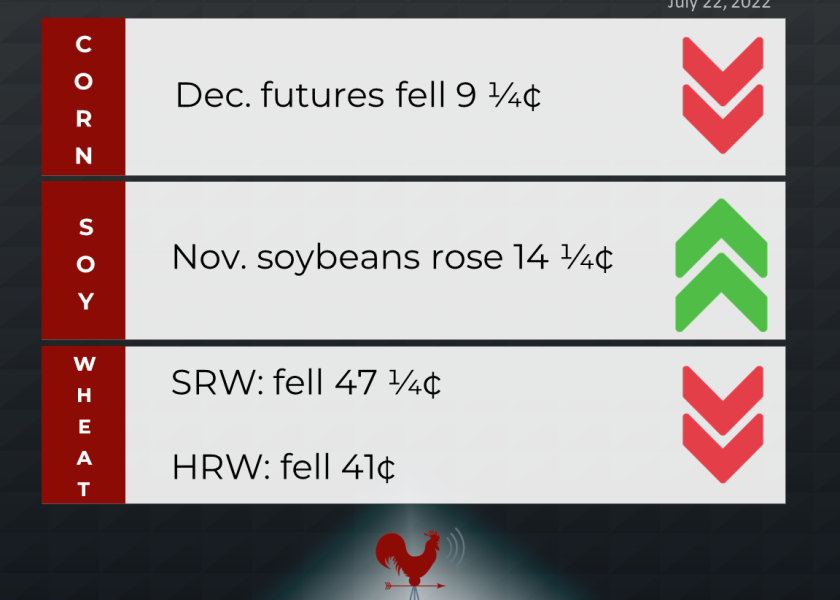 Corn: December corn futures fell 9 1/4 cents to $5.64 1/4, down 39 1/2 cents for the week and the contract's lowest closing price since $5.62 1/4 on Jan. 20. December corn briefly bounced back from overnight declines but soon faded to end at a six-month low amid expectations than rain and milder temperatures in the Midwest next week will aid the crop as it moves through its key pollination phase.
Soybeans: November soybeans rose 14 1/4 cents to $13.15 3/4, after rebounding from a six-month low of $12.88 1/2 overnight. The contract was still down 26 1/2 cents for the week. August soymeal fell $2.90 to $431.50 and August soyoil rose 172 points to 60.32 cents. Soybeans climbed amid concerns a return of hot Midwest weather in August will crimp yield potential during key reproductive phases.
Wheat: September SRW futures fell 47 1/4 cents to $7.59, down 17 3/4 cents for the week. September HRW futures fell 41 cents to $8.20 1/4, down 17 1/4 cents for the week. September spring wheat fell 41 1/2 cents to $8.71. Wheat futures took pressure following reports of an agreement to allow the safe passage of grain exports out of Ukraine's Black Sea ports.
Cattle:  August live cattle rose $1.65 to $137.375, the highest closing price since June 8 and a gain of $2.725 for the week. August feeder cattle rose $3.275 to $181.55, a five-month closing high. Live cattle may face pressure early next week after USDA's Cattle on Feed report late today showed estimated feedlot placements during June at 1.629 million head, down 2.4% from the same month a year earlier but higher than trade expectations for a decline of 5%, based on a Reuters survey on analysts.
Hogs: August lean hogs jumped $2.40 to $118.70, up a sharp $8.875 for the week and the contract's highest closing price since April 19. Cash hog and wholesale pork fundamentals powered hog futures higher this week. The CME lean hog index rose 67 cents today to a 13-month high at $117.04 (as of July 20) and is expected to hit $118.16 on Monday.