Corn, Soybean Fall Third Straight Day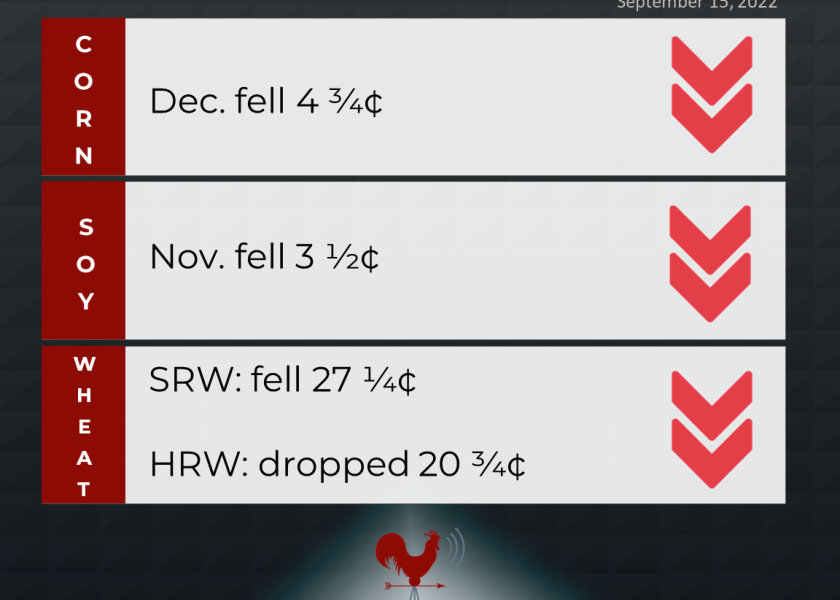 Corn: December corn futures fell 4 3/4 cents to $6.77 1/2. Corn fell a third straight day after U.S. railroads and unions representing workers reached tentative agreement, avoiding a strike that would have disrupted agricultural shipments. USDA resumed weekly export sales reports today after technical problems forced a halt Aug. 25. For the week ended Sept. 8, net U.S. corn sales totaled 583,100 MT for 2022-23, within analyst expectations ranging from 300,000 to 900,000 MT.
Soybeans: November soybeans fell 3 1/2 cents to $14.51 1/2, still up over 39 cents for the week. December soymeal rose $4.90 to $428.00, while December soyoil fell 57 points to 64.30 cents. Soybean futures fell a third straight day as the market extended a corrective pullback from 2 1/2-month highs posted earlier this week, with sharp declines in crude oil adding pressure.
Wheat: December SRW wheat fell 27 1/4 cents to $8.45, after climbing overnight to a two-month intraday high at $8.84 3/4. December HRW wheat dropped 20 3/4 cents to $9.26 1/4. December spring wheat fell 9 1/4 cents to $9.28 3/4. Winter wheat futures faded from overnight gains as a tentative agreement to avert a U.S. rail shutdown fueled corrective selling..
Cattle: October live cattle surged $1.275 to $145.625. October feeders fell 50 cents to $180.925. Live cattle futures rose behind signs of firming in the cash market. USDA-reported live steers averaged $142.73 the first three days this week, up from last week's $142.48 average.
Hogs: October lean hogs rose $1.35 to $96.05, the contract's highest close since Aug. 17. Hog futures climbed amid signs a recent cash market slump is abating. The CME lean hog index fell 9 cents to $97.58 (as of Sept. 13), a seven-month low, but Friday's quote is expected to rise 19 cents, the first daily gain since Aug. 17.