Corn, Soybean Futures Plunge to 2-Week Lows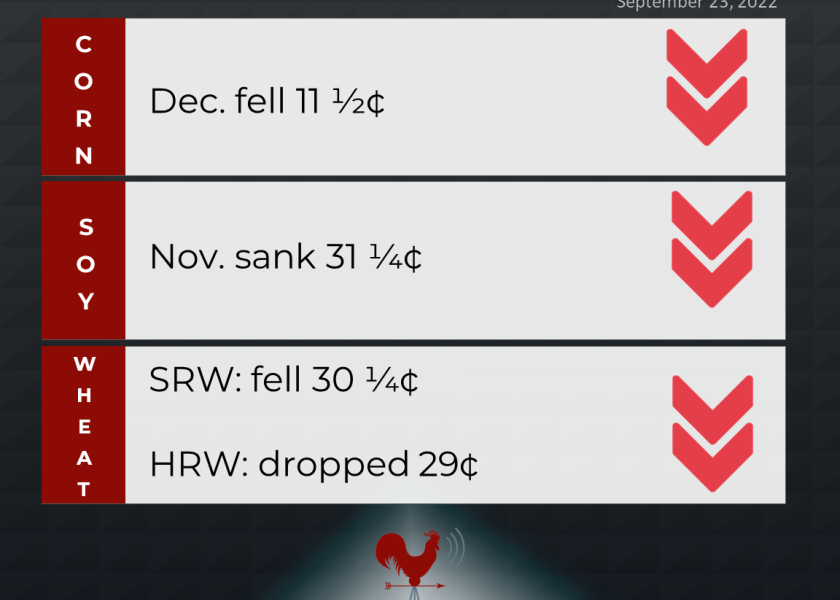 Corn: December corn futures fell 11 /12 cents to $6.76 3/4, down 1 cent for the week and the lowest closing price since $6.68 1/2 on Sept. 8. Corn futures tumbled as the U.S. dollar's rally to 20-year highs and escalating recession concerns fueled a broad commodity market sell-off.
Soybeans: November soybeans sank 31 1/4 cents to $14.25 3/4, down 22 3/4 cents for the week and the contract's lowest close since Sept. 9. December soymeal dropped $5.60 to $423.30 and December soyoil fell 278 points to 63.68 cents. The soy complex followed corn and wheat lower amid intensifying macroeconomic concerns.
Wheat: December SRW wheat fell 30 1/4 cents to $8.80 1/2 but still rose 20 3/4 cents for the week. December HRW wheat dropped 29 cents to $9.50 1/2, up 15 1/4 cents for the week. December spring wheat fell 28 1/2 cents to $9.49 1/4. Wheat futures plunged amid growing economic concern.
Cattle: December live cattle fell 80 cents to $148.55, down $2.425 for the week and the contract's lowest close since Aug. 31. November feeder cattle rose 20 cents to $178.25. USDA's Cattle on Feed Report today showed the Sept. 1 feedlot inventory up 0.4% over the year-earlier level, with placements up a stronger than expected 0.4% and marketings 6.4% above year-ago.
Hogs: December lean hogs fell $2.875 to $82.80, the lowest close since Sept. 12.  Livestock futures tumbled with other commodity markets today as the Federal Reserve's recent interest rate hike fueled increasing concern over a global recession that could curtail meat demand. Prospects for softer cash prices also weighed on hog futures. The CME lean hog index rose 5 cents to $98.01 (as of Sept. 21), but Monday's quote is expected to decline 42 cents.