Corn, Soybean Futures Rebound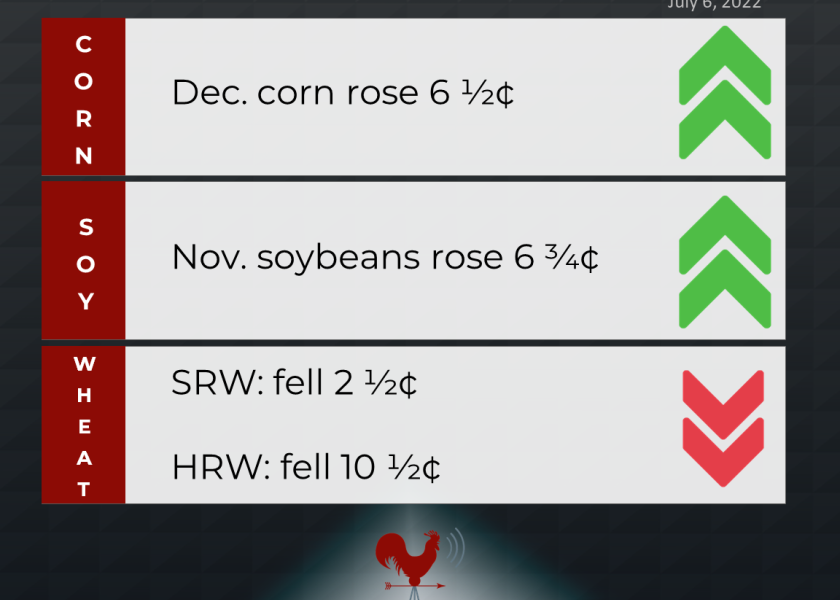 Corn: December corn futures rose 6 1/2 cents to $5.85, after earlier dropping to a five-month low of $5.66 1/2. Corn ended higher for the first time in five sessions as late corrective buying emerged after prices fell initially on expectations rain across the Corn Belt this week will alleviate dry conditions with pollination starting soon.
Soybeans: November soybeans rose 6 3/4 cents to $13.22 3/4, after earlier falling to $13.02 1/2, the contract's lowest intraday price since $13.00 3/4 on Jan. 25. August soyoil fell 106 points to 58.56 cents. August soymeal rose $5.20 to $415.60. Soybeans joined corn and ended higher behind corrective buying following steep losses the past few sessions.
Wheat: September SRW wheat fell 2 1/2 cents to $8.04 1/2, the contract's lowest closing price since Feb. 18. September HRW wheat fell 10 1/2 cents to $8.51 1/2, a 4 1/2-month closing low. September spring wheat fell 3 3/4 cents to $8.86 1/4. Nearby winter wheat futures fell for the fifth straight session under continued pressure from chart-driven fund selling and the accelerating U.S. harvest.
Cattle: August live cattle rose $1.575 to $134.50. August feeder cattle rose 60 cents to $173.30. Cattle futures rose amid strengthening cash fundamentals and relatively tight supplies of market-ready animals. Choice beef rose $3.58 early today to $268.24.
Hogs: August lean hog futures surged $3.25 to $109.20, a two-week closing high. Hog futures extended Tuesday's rally as traders shrugged off continued erosion in cash benchmarks. Futures' gains this week suggest traders anticipate the cash market will strengthen over the short-term.