Corn, Soybeans End Lower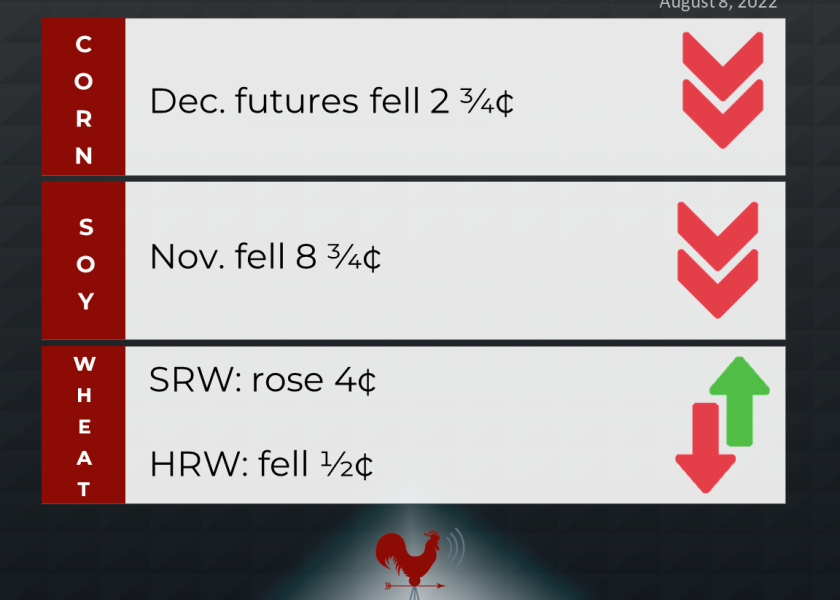 Corn: December corn futures fell 2 3/4 cents to $6.07 1/4. Corn futures were pressured primarily by weather as some dry areas of the western Corn Belt received rains over the weekend, with potential for more the next couple of days before warmer, drier conditions return.
Soybeans: November soybeans fell 8 3/4 cents to $14.00. September soymeal fell $1.10 to $436.40. September soyoil rose 35 points to 65.35 cents. November soybeans fell a second straight session on expectations Midwest rainfall will boost yield prospects with soybeans in critical reproductive phases. But lingering concern dryness may persist into the second half of August limited selling pressure.
Wheat: September SRW wheat rose 4 cents to $7.79 3/4, while September HRW wheat fell 1/2 cent to $8.47 3/4. September spring wheat fell 5 3/4 cents to $8.80 3/4. Wheat futures ended mixed following two-sided, narrow-range price action as traders watched Ukraine developments and looked ahead to USDA's Crop Production and Supply and Demand reports Friday.
Cattle: October live cattle rose 35 cents to $144.225, the contract's highest closing price since May 4. September feeder cattle surged $2.225 to $185.65, the highest close since Feb. 23. Feeder cattle led live cattle higher amid expectations last week's firm cash trade will continue and an outlook for tighter animal supplies.
Hogs: October lean hogs rose $1.90 to $100.30, a lifetime-high close for the contract. Nearby August hogs rose 97.5 cents to $121.80, the highest close for a nearby contract since June 2021. Solid cash market fundamentals and bullish technicals fueled buying interest in hog futures. Today's CME lean hog index rose 48 cents to $122.09 (as of Aug. 4), 59 cents below last year's high.