Corn, Soybeans Finish the Week Down, Soybeans Up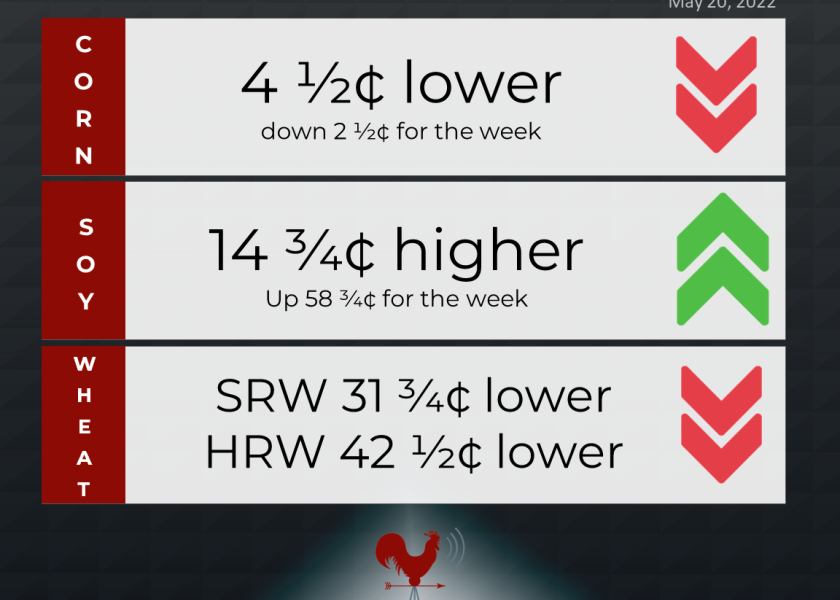 Corn: July corn futures fell 4 1/2 cents to $7.78 3/4, down 2 1/2 cents for the week and the contract's lowest close since May 10. December corn fell 4 cents to $7.32, down 33 1/2 cents for the week. Nearby corn futures fell for a third consecutive week on spillover from a continued slump in the wheat market and expectations for improved U.S. planting progress.
Soybeans: July soybeans rose 14 3/4 cents to $17.05 1/4, up 58 3/4 cents for the week and the contract's highest close since April 21. November soybeans rose 7 1/4 cents to $15.21 3/4, up 23 1/2 cents for the week. July soymeal gained $4.60 to $429.90 and July soyoil rose 140 points to 80.93 cents. Nearby soybean futures extended a nearly two-week rally to four-week highs behind bullish demand fundamentals, including stronger-than-expected exports.
Wheat: July SRW wheat fell 31 3/4 cents to $11.68 3/4, down 8 3/4 cents for the week. July HRW wheat fell 42 1/2 cents to $12.52 3/4, down 29 1/4 cents for the week. July spring wheat fell 51 1/2 cents to $12.79. Wheat futures plunged on heavy, technically-driven fund selling over the past three days, with further pressure stemming from moisture relief expected in the U.S. Plains.
Cattle: June live cattle rose 7.5 cents to $131.575, down 50 cents for the week. August feeder futures fell $1.275 to $163.925, down $4.10 for the week. Live cattle were pressured by softer cash prices this week and may drop further early next week following today's bearish USDA Cattle on Feed Report.
Hogs: June lean hog futures rose $3.575 to $108.875, the contract's highest closing price since April 28. July lean hogs rose $2.025 to $109.00, up $7.80 for the week. Sharp gains this week have solidified beliefs the hog market has established a near-term bottom and begun a seasonal rally.