Corn, Soybeans Firmer but Still Down Sharply for Week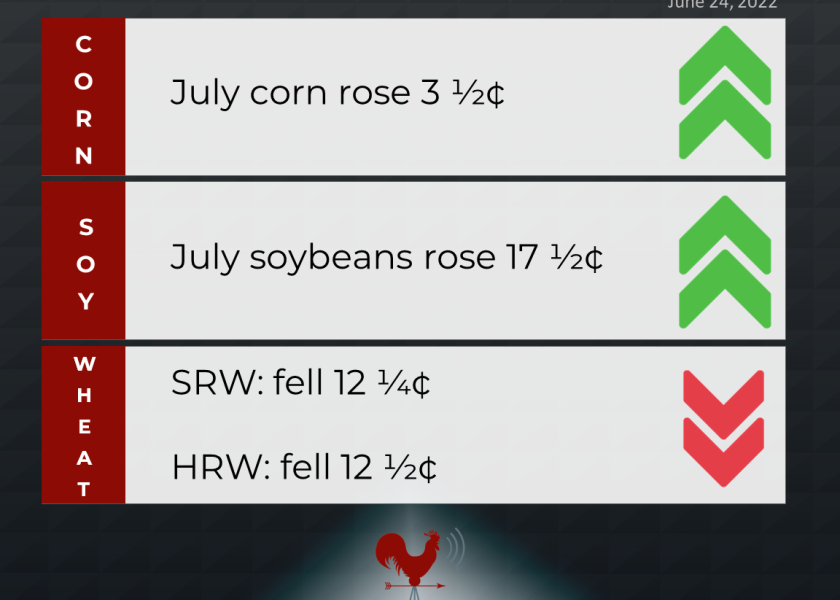 Corn: July corn futures rose 3 1/2 cents to $7.50 1/4, still down 37 3/4 cents for the week. December corn rose 18 1/2 cents to $6.74, still down 61 cents for the week. Corn futures rose on corrective buying and short covering in the wake of steep losses earlier this week, with stronger-than-expected export sales encouraging buyers.
Soybeans: July soybeans rose 17 1/2 cents to $16.10 3/4, still down 91 1/4 cents for the week. November soybeans rose 8 3/4 cents to 14.24 1/4, down $1.13 for the week. Soybeans took sharp losses for the week on an outlook for milder Midwest temperatures. Weather and USDA's weekly crop ratings Monday will be two keys to market direction early next week before traders shift focus to USDA's acreage and quarterly stocks reports June 30.
Wheat: December SRW wheat fell 12 1/4 cents to $9.52 1/4, down $1.09 for the week and December HRW wheat fell 12 1/2 cents to $10.08, down $1.13 1/2 for the week, both near three-month lows. December spring wheat fell 9 3/4 cents to $10.76 1/4. Accelerating harvest pressure and weak technicals continued to burden wheat futures.
Cattle: August live cattle fell 50 cents to $133.375, down $3.20 for the week. August feeder cattle fell $2.15 to $172.70, down 25 cents for the week. Live cattle were pressured this week by weaker cash and recession concerns, but prices may gain a boost early next week from a bullish USDA Cattle on Feed report. May feedlot placements fell a larger than expected 2.1% from the same month a year earlier.
Hogs: August hogs gained $3.10 to $106.775, down $1.10 for the week. Hogs ended the week on a firm now amid strong cash market fundamentals, with the CME lean hog index near a 10-month high. The next index quote is expected to be $110.90, up 21 cents.