Corn, Soybeans Under Pressure Ahead of Midwest Rains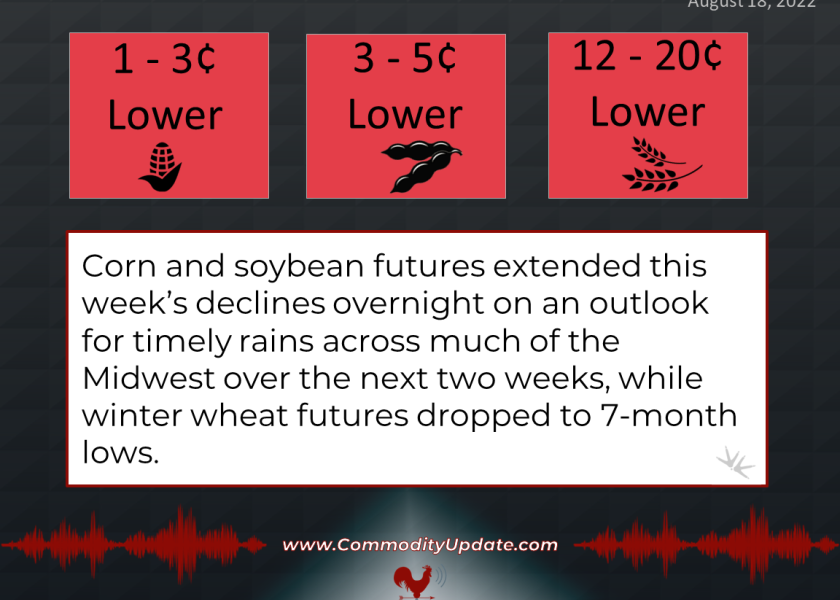 Corn: 1 to 3 cents lower.
Soybeans: 3 to 5 cents lower.
Wheat: 12 to 20 cents lower.
Cattle: Steady-mixed
Hogs: Steady-weaker
Corn and soybean futures extended this week's declines overnight on an outlook for timely rains across much of the Midwest over the next two weeks, while winter wheat futures dropped to seven-month lows. Malaysian palm oil futures fell 3.5% to near two-week low as rival edible oils declined. Front-month crude oil futures rose nearly $2. U.S. stock index futures signal a firmer open, while the U.S. dollar index is slightly higher.
Weather for the Midwest leans bearish for corn and soybean futures. A "good mix" of rain and sunshine is expected for the U.S. Delta, Southeastern States and Midwest during the next two weeks, World Weather Inc. said. Heavy rain is expected in the southern U.S. Plains late Saturday through Monday, with coverage of 1 to 3 inches and locally much more near the Red River. All of northern and western Texas and much of central and southern Oklahoma will be impacted. "The moisture will be good for future planting of wheat and improved pasture and range conditions later this autumn, but much of it will come too late for summer crop production," the forecaster said.