Corn, Soybeans, Wheat, Cattle Gain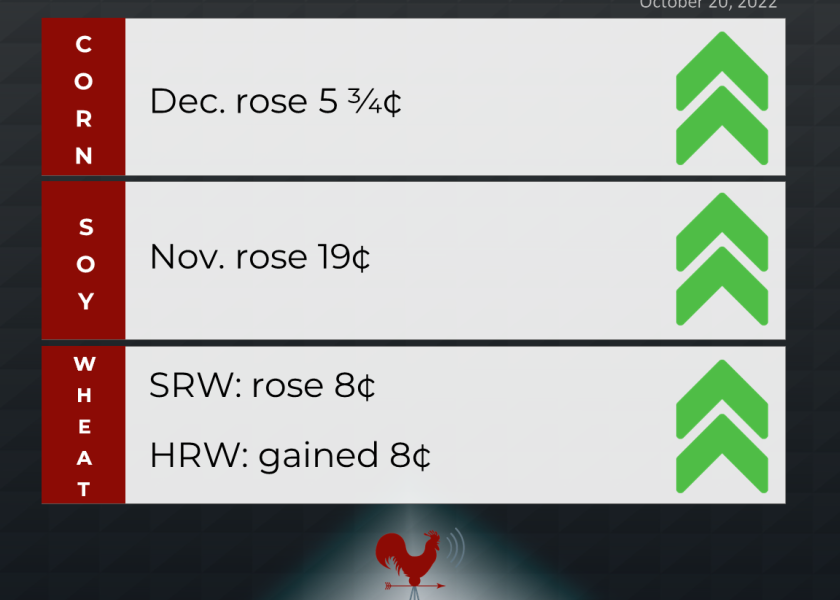 Corn: December corn rose 5 3/4 cents to $6.84, nearer the session high. Corn futures rose for the first time in five sessions on a weaker U.S. dollar and concern over a lack of progress to extend a deal allowing Ukraine to ship grain out of its Black Sea ports. Traders continued to closely monitor low water levels on the Mississippi River that have slowed grain shipments into export markets.
Soybeans: November soybeans rose 19 cents to $13.91 1/2. December soymeal surged $11.60 to $413.30. December soyoil fell 22 points to 70.42 cents after earlier hitting a four-month high. Soybeans closed at the highest levels in over a week behind signs of improving export demand. USDA reported net U.S. soybean sales totaling 2.336 MMT during the week ended Oct. 13, more than triple the previous week's sales of 724,400 MT and the highest weekly total in a year.
Wheat: December SRW wheat rose 8 cents to $8.49 1/4. December HRW wheat gained 8 cents to $9.49 3/4. December spring wheat rose 9 cents to $9.62 1/2. Wheat rose as weakness in the dollar and strength in corn and soybeans spurred bargain buying and short covering.
Cattle: October live cattle rose 42.5 cents to $149.775, the highest close for a nearby contract since August 2015. December live cattle gained 32.5 cents to $151.675, a six-month closing high. November feeders declined 52.5 cents to $177.625. Cattle futures extended a rally on reports of stronger cash, with prices around $150.00 reported in some markets.
Hogs: December lean hogs fell 35 cents to $87.0250, the contract's first decline in five sessions. Hog futures fell for on profit-taking and corrective selling in the wake of a steep rally the past two weeks. The CME lean hog index rose 1 cent to $93.20.