Corn, Soybeans & Wheat Plummet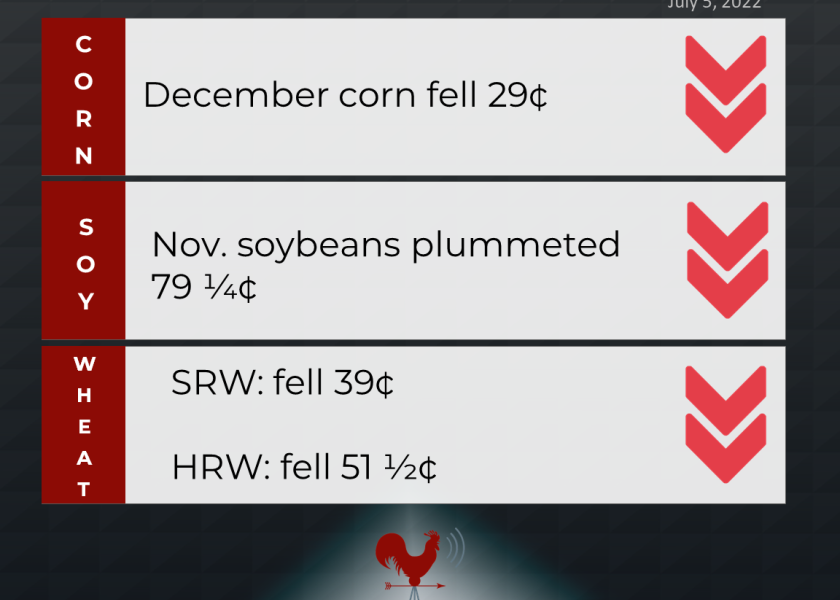 Corn: December corn fell 29 cents to $5.78 1/2, the contract's lowest settlement since Feb. 4. Corn tumbled in the wake of crop-benefitting rains of at least one inch to well over two inches fell over much of the Corn Belt the past 48 hours, with more on the way in the coming days. This afternoon's USDA weekly crop progress reports are expected to show the U.S. corn crop in 66% "good" to "excellent" condition, compared to 67% last week and 64% last year at this time.
Soybeans: November soybeans plummeted 79 1/4 cents to $13.16, the lowest close price since Jan. 24. August soymeal fell $11.70 to $410.40. August soyoil fell 481 points to 59.62 cents. November soybeans gapped lower at today's open on expectations weekend rains and crop-favoring weather will boost yield prospects. USDA is expected to rate 64% of the U.S. soybean crop in good-to-excellent condition as of Sunday, down from 65% the previous week.
Wheat: September SRW wheat tumbled 39 cents to $8.07, the lowest closing price since Feb. 18. September HRW wheat sank 51 1/2 cents to $8.62. September spring wheat fell 58 cents to $8.90. Wheat futures extended last week's nosedive amid expanding harvest pressure. The winter wheat crop was 57% harvested as of the start of this week, based on a Reuters survey of analysts, up from 41% the previous week.
Cattle: August live cattle fell $1.675 to $132.925, while August feeder futures tumbled $1.80 to $172.70. Cattle futures joined a general commodity downturn fueled by growing recession fears. Current cattle fundamentals still look supportive, with the usual post-Independence Day sag in consumer demand looking mitigated by tight supplies of market-ready animals.
Hogs: August hogs rose $2.975 to $105.95, the contract's highest closing price since June 24. Hog futures ended mixed, holding up relatively well amid a broad commodity sell-off. The next CME lean hog index is expected at $110.58, down 12 cents from today's figure and the fourth straight daily decline.