Corn, Soybeans & Wheat Prices Fall; Cattle Mixed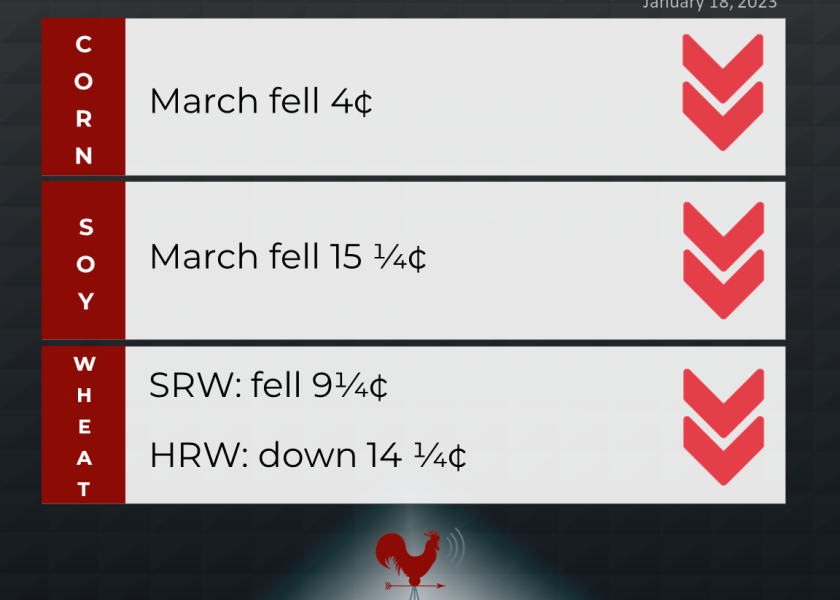 Corn: March corn futures fell 4 cents at $6.81 1/4 and nearer the session low. Prices hit a nine-week high early on today. Routine profit taking from the shorter-term speculators was featured in corn futures today.
Soybeans: March soybeans fell 15 1/4 cents after reaching a 7-month overnight high, while March meal futures fell $3.10 to $478.10 and March soyoil rose 28 points to 64.12 cents. Soybeans faced corrective selling after reaching over a 7-month high overnight, pulled lower by pressure in the meal market as weather in Argentina is expected to turn a bit more favorable for the next week.
Wheat: March SRW wheat fell 9 1/4 cents to $7.42 1/2. March HRW wheat closed down 14 1/4 cents at $8.41 1/2. Prices closed nearer the session lows today. March spring wheat futures tumbled 15 cents to $9.01. Wheat futures markets are presently in a follower's mode, and they sold off today when price weakness surfaced in the corn and soybean futures markets.
Cattle: Live cattle futures proved mixed Wednesday, with the nearby February contract sliding 20 cents to $156.80. While the expiring January feeder contract dipped 15 cents to $179.50, most-active March futures rose 42.5 cents to $181.725. It has become increasingly clear that packer cutbacks over the holidays created a backlog of market-ready cattle in feedlots, as indicated by last week's 7% annual increase in cattle slaughter and the 29,000 head (8.4%) increase seen through the first three days of this week.
Hogs: Hog futures resumed their early-2023 breakdown Wednesday, with the nearby February contract falling $1.125 to $77.325. The CME hog index, which futures cash-settle against, continued its recent drop. Monday's official quote matched the preliminary figure at $74.18, down 16 cents and Tuesday's preliminary figure came in 34 cents lower at $73.84.