Corn, Soybeans, Wheat Rally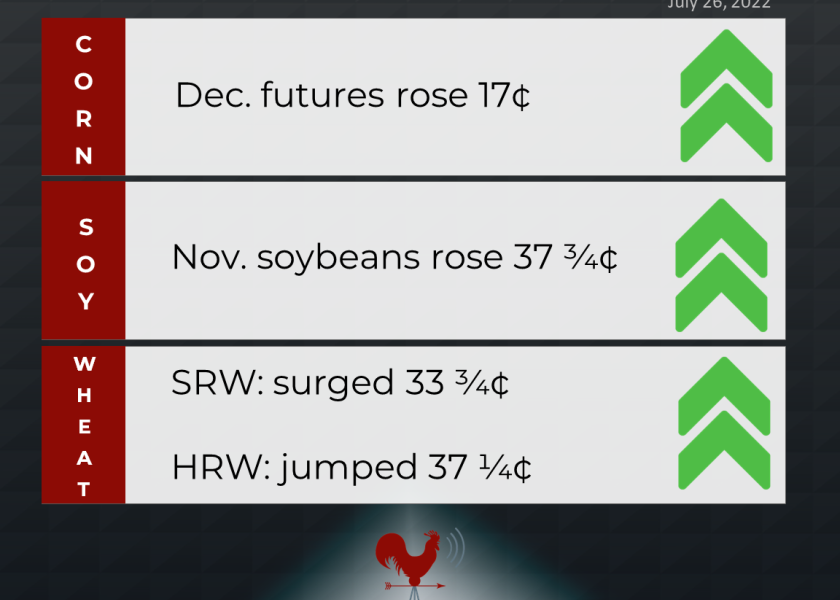 Corn: December corn futures rose 17 cents to $6.00 3/4, the contract's highest closing price since $6.10 3/4 on July 18. December futures gapped higher overnight after USDA reported disappointing weekly crop ratings. U.S. corn acres rated "good" or "excellent" fell to 61% as of Sunday from 64% the previous week. Forecasts for another round of extreme Midwest heat next week also supported prices.
Soybeans: November soybeans rallied 37 3/4 cents to $13.83 3/4, the contract's highest closing price since July 11. August soymeal surged $24.90 to $472.40, a lifetime-high close for the contract. August soyoil rose 41 points to 60.42 cents. Soybean futures gapped higher overnight and closed at the highest levels in over two weeks on lower-than-expected crop ratings and concerns over Midwest heat.
Wheat: September SRW wheat surged 33 3/4 cents to $8.03 3/4. September HRW futures jumped 37 1/4 cents to $8.77. September spring wheat soared 44 3/4 cents to $9.28 3/4. Prices climbed after USDA's spring wheat crop ratings unexpectedly fell and Russian jets hit Ukraine's key port city of Odesa with cruise missiles again today and attacked other coastal villages and port facilities.
Cattle: August live cattle fell 87.5 cents to $136.875. August feeder cattle tumbled $1.875 to $177.425. Live cattle futures fell in a corrective setback from Monday's rally to three-month highs. An outlook for limited beef demand and further weakness in cash prices also weighed on the market.
Hogs: August Lean hogs fell 25 cents to $116.975. Hog futures fell a second consecutive session amid corrective pressure following last week's rally to three-month highs. But futures remain supported by firm cash fundamentals. The CME lean hog index rose 91 cents to $119.13 (as of July 22), the highest level since June 2021, and is expected to gain another 35 cents tomorrow.