Corn Surpasses $7 for First Time Since June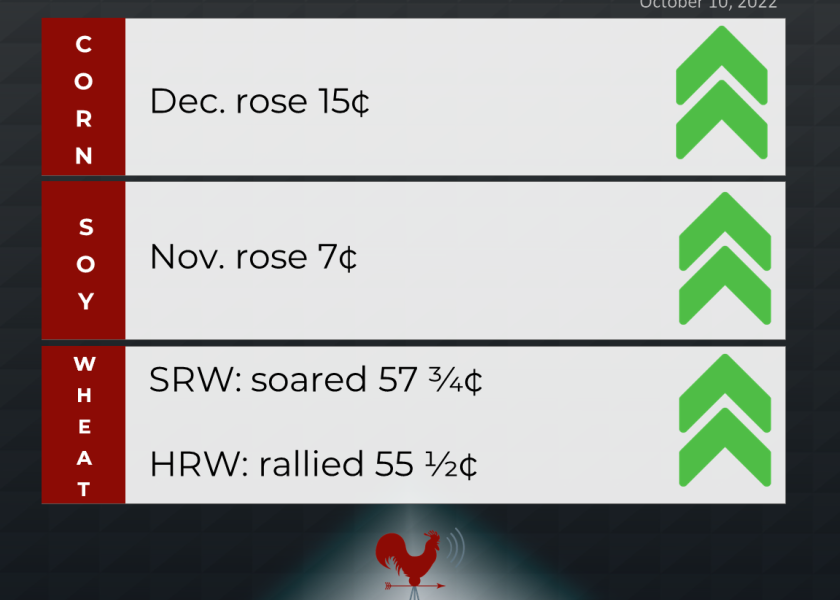 Corn: December corn rose 15 cents to $6.98 1/4, the contract's highest close since $7.01 1/2 on June 21, but down from a surge above $7. Corn futures traded above $7 for the first time since June as the market joined a rally in winter wheat fueled by Russia's intensified attacks on Ukraine, which raised the prospect of disruptions to grain shipments from the Black Sea.
Soybeans: November soybeans rose 7 cents to $13.74, after rising earlier to $13.98 3/4, the contract's highest intraday price since Sept. 29. December soymeal rose $5 to $405.70. December soyoil fell 54 points to 66.06 points. Soybeans climbed earlier to highs for the month on spillover support from rallying corn and wheat markets but erased much of the early strength by the close.
Wheat: December SRW wheat soared 57 3/4 cents to $9.38, the contract's highest closing price since June 29. December HRW wheat rallied 55 1/2 cents to $10.24 1/4, the highest close since June 22. December spring wheat rose 46 1/4 cents to $10/14 1/4. Wheat led a rally in the grain complex as escalation in the Russia-Ukraine war over the weekend raised questions over supplies out of the Black Seas region.
Cattle: Feeder cattle tumbled to the lowest level in over four months on pressure from corn's rally back above $7. December live cattle dropped near a two-week low as the U.S. dollar soared near a 20-year high, stirring worries demand for dollar-denominated commodities could be hampered.
Hogs: October lean hogs rose 80 cents to $93.75, while December hogs rose $2.45 to $79.60, the contract's highest closing price since Sept. 33. Hog futures climbed on short covering and chart-based buying amid ideas the market may have overextended a recent slump that sent the market to 10-month lows last week. Cash hog market fundamentals are starting to improve just a bit.