Corn & Wheat Drop; Hit Two-Month Lows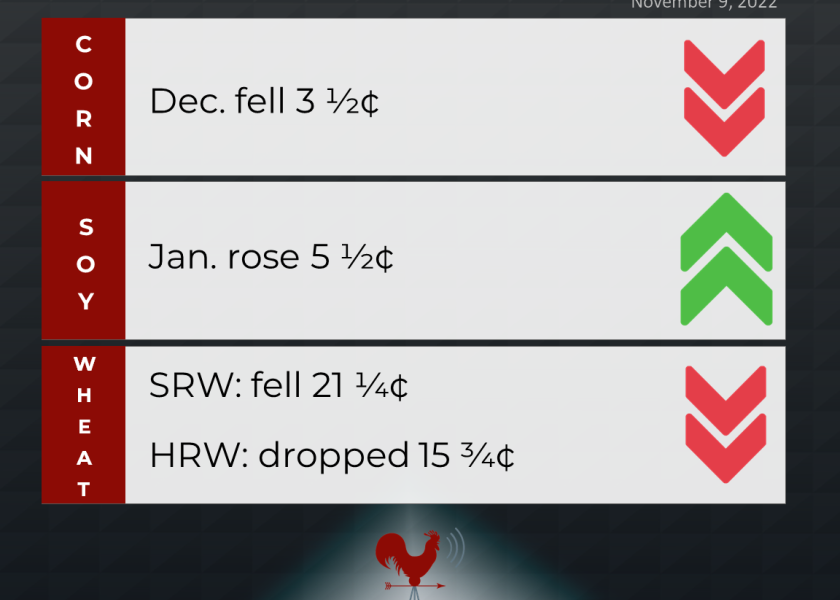 Corn: December corn fell 3 1/2 cents to $6.64 1/2, the contract's lowest settlement since Aug. 26. Corn futures ended at the lowest levels in over two months after USDA raised its estimate for the U.S. crop more than expected. In its Crop Production Report, USDA estimated the crop at 13.93 billion bu., up 35 million bu. from an October forecast and about 43 million bu. above the average analyst estimate.
Soybeans: January soybeans rose 5 1/2 cents to $14.52. December soymeal fell $1.70 to $417.60. December soyoil rose 51 points to 75.54 cents. Soybean futures ended higher as demand optimism overshadowed USDA's higher than expected production and supply forecasts.
Wheat: December SRW wheat fell 21 1/4 cents to $8.06 1/2, the contract's lowest close since Sept. 1. December HRW wheat dropped 15 3/4 cents to $9.30. December spring wheat fell 12 1/4 cents to $9.38 1/4. Wheat futures tumbled on deteriorating near-term technicals and bearish outside markets, including a sharp gain in the U.S. dollar and sharp declines in crude oil.
Cattle: December live cattle fell $1.475 to $151.575, the contract's lowest close since Nov. 2. January feeder cattle declined 25 cents to $179.65. Nearby live cattle ended at a one-week low on fading optimism over the cash market.
Hogs: December lean hog futures fell 30 cents to $85.275, though February and other 2023 contracts ended with small gains. Hog futures ended mixed following two-sided trade, with nearby December under pressure from soft technicals and eroding cash fundamentals as slaughter increases seasonally.