Corrective Bounce Continues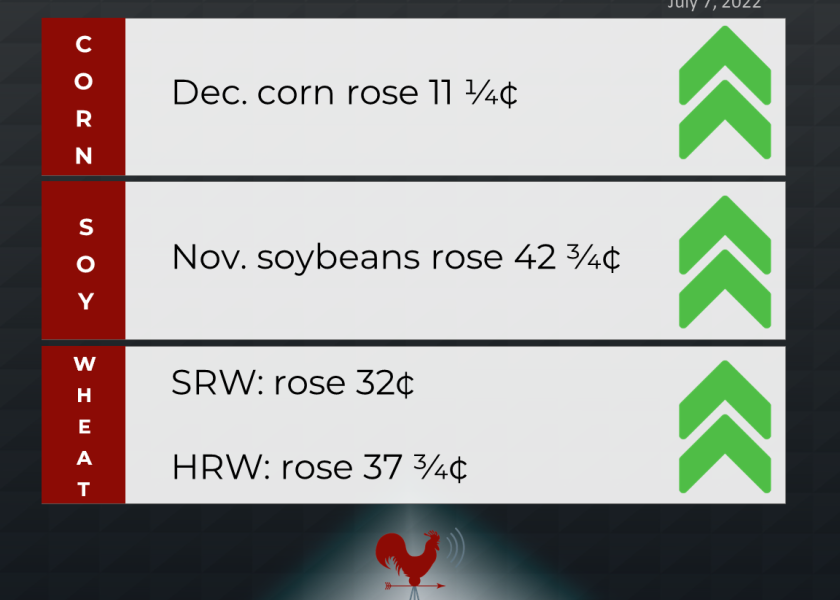 Corn: December corn futures rose 11 1/4 cents to $5.96 1/4, after earlier rising as high as $6.08 3/4. Corn futures rose a second day as corrective buying and short-covering drove a rebound from five-months lows earlier this week. Traders may also be restoring some weather premium into prices amid forecasts for drier weather in the Midwest during mid-July.
Soybeans: November soybeans rallied 42 3/4 cents to $13.65 1/2. August soyoil soared 306 points to 61.62 cents per pound. August soymeal surged $7.90 to $423.50 per ton. The soy complex was supported by strength in crude oil and U.S. stocks, which suggested easing recession concerns.
Wheat: September SRW wheat rose 32 cents to $8.36 1/2. September HRW wheat rose 37 3/4 cents to $8.89 1/4. September spring wheat rose 48 1/4 cents to $9.34 1/2. Wheat futures rose on short covering and corrective buying after prices hit four-month lows earlier this week.
Cattle: August live cattle rose 5 cents to $134.55. August feeder cattle fell $1.025 to $176.05. Live cattle futures rose a second consecutive day, supported by signs of easing recession concerns, expectations for steady to firmer cash cattle prices and continued strength in wholesale beef.
Hogs: August lean hogs rose 30 cents at $109.50, the highest close since June 21. Nearby hogs extended sharp gains the previous two sessions as technical strength and easing concern over pork demand outweighed weakness in cash benchmarks.