December Corn Falls to 4-week Low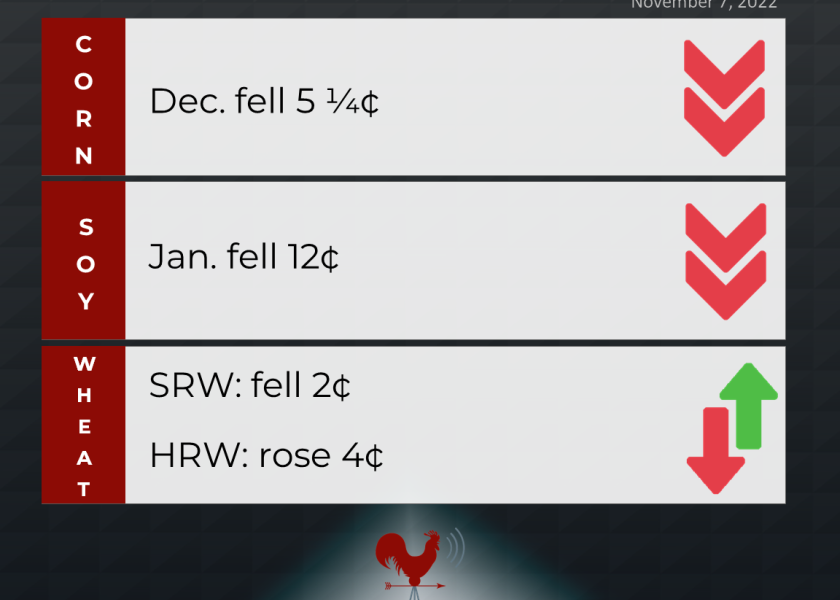 Corn: December corn fell 5 1/4 cents to $6.75 3/4, the contract's lowest close since $6.75 1/2 on Oct. 6. Corn fell amid sluggish demand as traders looked ahead to USDA's monthly Crop Production and Supply & Demand updates Wednesday. USDA will update harvest progress later today. Harvest is expected to be 86% to be complete, up from 76% a week earlier.
Soybeans: January soybeans fell 12 cents to $14.50 1/2, after earlier reaching a six-week high at $14.69. December soymeal fell $1.40 to $419.00. December soyoil fell 84 points to 76.33 cents. Soybeans fell from an initial climb to six-week highs amid demand concerns after China denied it was easing its strict zero-Covid policy.
Wheat: December SRW wheat fell 2 cents to $8.45 3/4. December HRW wheat rose 4 cents to $9.57 1/4. December spring wheat futures rose 5 3/4 cents to $9.60 1/4. Wheat gained behind a sharp pullback in the U.S. dollar and an early rally in crude oil
Cattle: December live cattle rose $1.40 to $153.05, the contract's highest settlement since Oct. 27 and the highest close for a nearby contract since June 2015. January feeder cattle rose 30 cents to $179.925. Live cattle futures climbed as tight supplies and firm demand continued to feed optimism on the cash market outlook.
Hogs: December lean hogs rose $4.075 at $87.05, the contract's highest close since Oct. 26. Hogs rallied in a corrective rebound from the steep declines the past two weeks send the December contract to a three-week low. Cash fundamentals remained soft, but futures were due for a short-term bounce.