December Corn Posts Two-Month High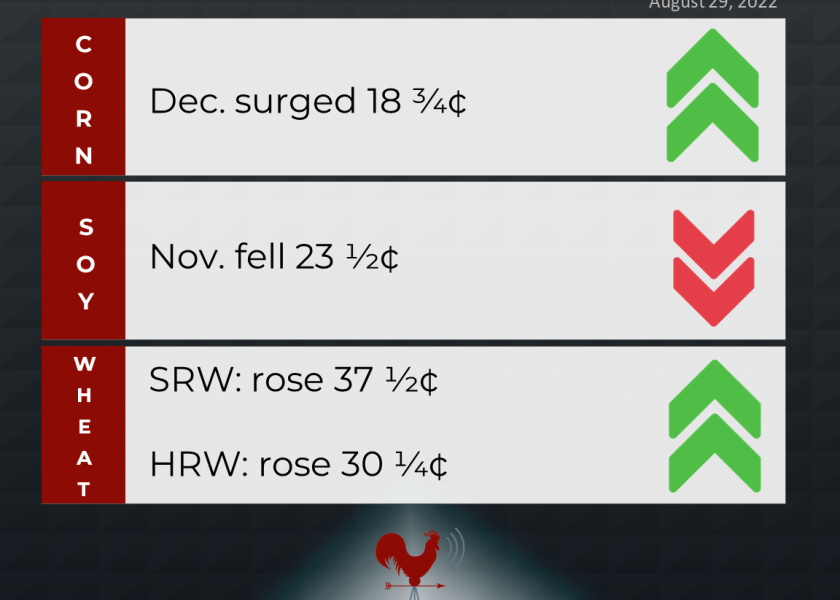 Corn: December corn surged 18 3/4 cents to $6.83, the contract's highest closing price since June 22. Corn futures surged after Pro Farmer last Friday estimated the U.S. crop at 13.759 billion bu., which would be a three-year low and underscored the toll taken by hot, dry weather much of the Midwest growing season. USDA late today reported 54% of the U.S. corn crop in "good" or "excellent" condition as of Sunday, down from 55% the previous week and meeting analysts' expectations. The good-to-excellent rating has decline four consecutive weeks.
Soybeans: November soybeans fell 23 1/2 cents to $14.37 3/4. October soymeal fell 50 cents to $433.60 and October soyoil fell 27 points to 67.65 cents. Soybeans fell amid beliefs rains across much of the Midwest over the weekend and an outlook for mostly favorable weather will boost yield potential. Soybeans were also pressured by Pro Farmer's estimate for a record U.S. harvest., at 4.535 billion bu. Late today, USDA said 57% of the U.S. soybean crop was in good-to-excellent condition as of Sunday, unchanged from a week earlier and better than expectations for 56%.
Wheat: December SRW wheat rose 37 1/2 cents to $8.42 3/4, a four-week closing high. December HRW wheat gained 30 1/4 cents to $9.12 1/2, a six-week-high. December spring wheat rose 23 3/4 cents to $9.33 1/4. Winter wheat surged as spillover strength from corn and chart-based buying after prices broke above the recent trading range overshadowed the U.S. dollar's jump to a two-decade high.
Cattle: October live cattle fell 15 cents to $142.90, the contract's lowest closing price since Aug. 2. October feeder cattle fell $2.325 to $181.075. Live cattle extended last week's declines amid erosion in cash and wholesale markets. Feeder cattle took sharp losses as the corn market rallied to two-month highs. Live steers averaged $144.79 last week, down $2.34 from the previous week's average and ending a run of three consecutive weekly gains.
Hogs: October lean hogs rose $1.60 to $92.25. Hog futures were supported by corrective buying as the market consolidated following sharp losses the past two weeks. Cash remained weak. The CME lean hog index fell $2.73 today (as of Aug. 25) to $113.32, the lowest since July 12. Tomorrow's quote is projected down another $2.06.