December Corn Sinks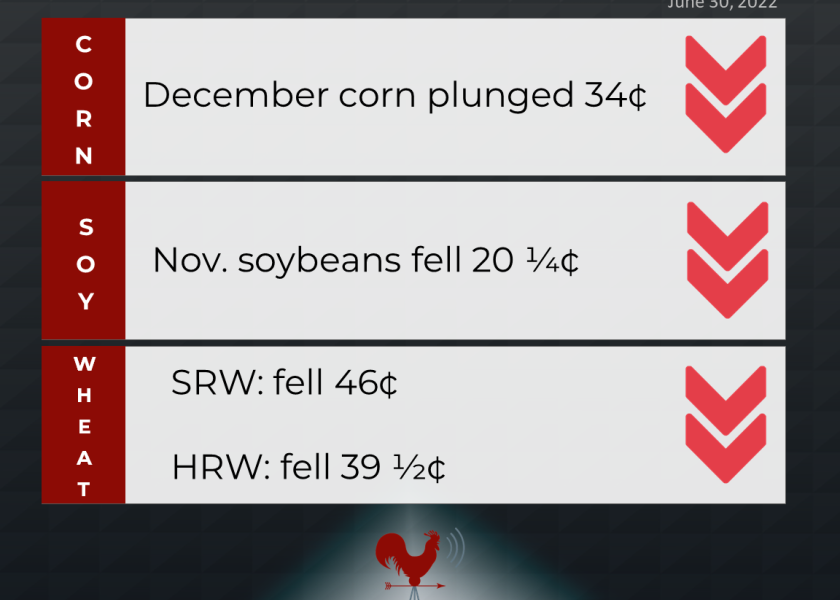 Corn: December corn futures plunged 34 cents to $6.19 3/4, the contract's lowest close since $6.12 on March 3. Corn ended near a four-month low after USDA, in its Acreage Report today, boosted its projection for 2022 U.S. corn plantings to 89.921 million ac., up from 89.49 million ac. in a March forecast and above the average analyst projection of about 89.861 million ac.
Soybeans: November soybeans fell 20 1/4 cents to $14.58. August soyoil sank 249 points to 67.01 cents and August soymeal rose $6.20 to $435.50. USDA lowered its estimate for 2022 U.S. soybean plantings from 90.966 million ac. in March to 88.325 million ac., under expectations averaging 90.446 million. But USDA also hiked estimated June 1 U.S. soybean stockpiles more than expected.
Wheat: September SRW wheat tumbled 46 cents to $8.84 and September HRW wheat fell 39 1/2 cents to $9.51 3/4, both near four-month closing lows. September spring wheat fell 38 1/2 cents to $9.90. Wheat fell following reports Ukraine shipped its first grain from its Black Sea ports in months, while USDA's Acreage and quarterly Grain Stocks reports held few surprises.
Cattle: August live cattle rose 40 cents to $132.575, while August feeder cattle rose $2.45 to $176.225. Nearby live cattle rebounded from an initial drop to four-week lows amid corrective buying and signs of modest strength in cash markets around mid-week.
Hogs: August lean hog futures fell $1.475 at $102.10, the contract's lowest closing price since $98.975 on May 12. Hog futures sank to a seven-week closing low amid continued pressure from eroding cash market fundamentals. The CME lean hog index is expected to fall 42 cents tomorrow to $100.84.