December Corn Tumbles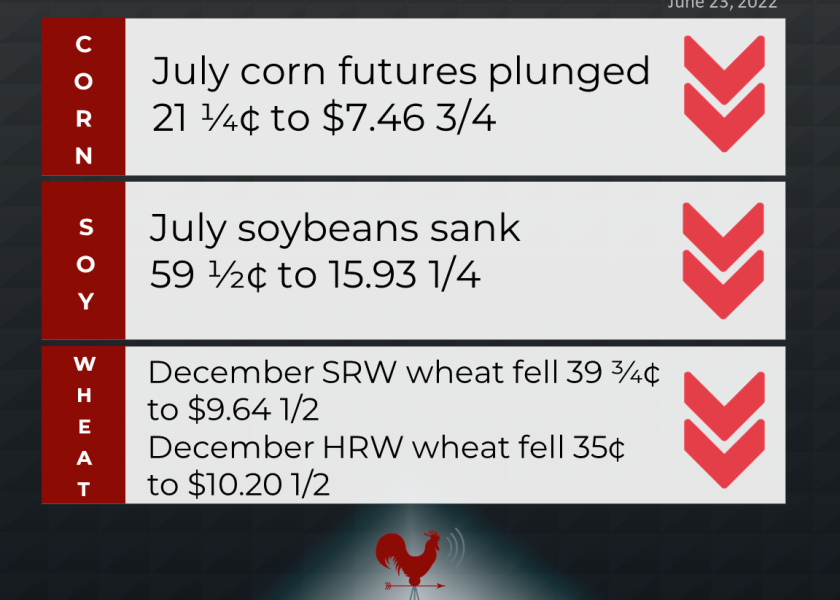 Corn: July corn futures plunged 21 1/4 cents to $7.46 3/4, while December corn fell 38 1/4 cents to $6.55 1/2, the lowest close since March 29. New-crop corn dropped near a three-month low as an outlook for improved Midwest weather combined with escalating recession concerns to spur heavy fund liquidation.
Soybeans: July soybeans sank 59 1/2 cents to 15.93 1/4, while November futures dropped 61 cents to 14.15 1/2, the lowest close since April 1. July soymeal fell $5.70 to $426.70, while July soyoil declined 295 points to 67.71 cents, a four-month low. Soybeans joined a broad commodity market sell-off as chart breakdowns and an outlook for milder Midwest weather fueled active fund selling.
Wheat: December SRW wheat fell 39 3/4 cents to $9.64 1/2 and December HRW wheat fell 35 cents to $10.20 1/2, both near three-month lows. December spring wheat futures tumbled 27 1/4 cents to $10.86. Wheat futures extended this week's slump on increasing harvest pressure and expanding concern over a potential recession.
Cattle: August live cattle lost $1.05 to $133.875, the lowest closing price since June 13. August feeder cattle climbed $1.70 to $174.85. Live cattle futures fell on a softening cash market and concerns a possible recession may prompt consumers to cut back on pricier foods, such as beef. Choice beef cutout values fell $1.79 early today to $264.78.
Hogs: July lean hogs dropped $3.30 to $108.55 and August futures sank $4.65 to $103.675. Hog futures joined a commodity sell-off as expanding recession fears overshadowed continued cash market firmness. The next CME Lean Hog Index is expected to drop 7 cents, to $110.67, but is still near a 10-month high. Pork cutout values rose 9 cents early today to $111.24 on movement of 136 loads.