Grain and Livestock Recap (6/15)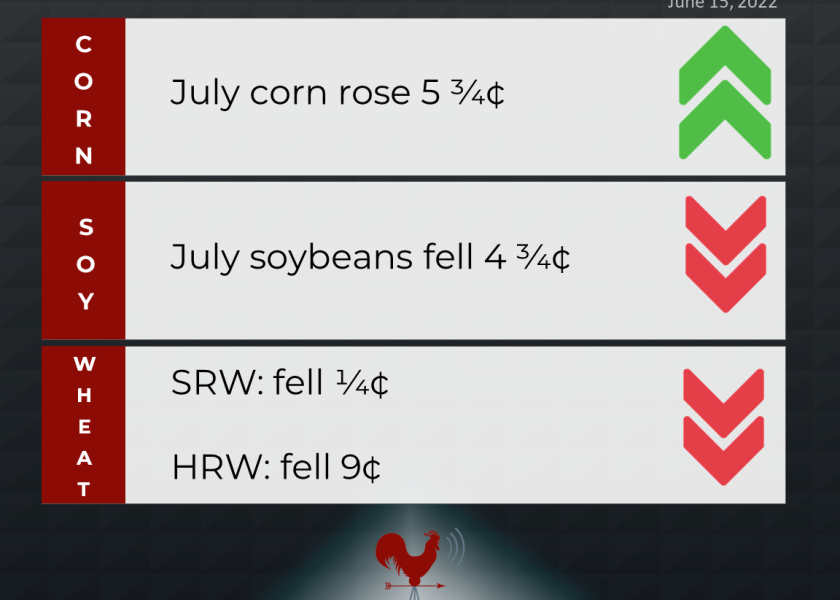 Corn: July corn futures rose 5 3/4 cents to $7.74, the contract's highest closing price since May 27. December futures fell 1/4 cent to $7.21. Nearby corn climbed behind continued strength in cash markets and firm demand fundamentals. U.S. ethanol production last week averaged 1.060 million barrels per day (bpd), up 21,000 bpd from the previous week and up 3.4% over the same week in 2021.
Soybeans: July soybeans fell 4 3/4 cents to $16.93 3/4, the contract's lowest closing price since June 1. November soybeans fell 1 3/4 cents to $15.23 1/2. July soymeal rose $6.50 to $417.50 per ton. July soyoil fell 61 points to 77.67 cents. Nearby soybean futures settled at a two-week low after USDA early today reported a cancellation of a 100,000-MT export sale to "unknown destinations."
Wheat: July SRW wheat fell 1/4 cent to $10.50. July HRW wheat fell 9 cents to $11.33 1/4. July spring wheat fell 7 1/4 cents to $12.01 1/4. Nearby HRW and SRW contracts settled near two-week lows amid pressure from the accelerating U.S. harvest.
Cattle: August live cattle soared $2.725 to $136.80. August feeders rose $1.975 to $173.275. Cattle futures rallied in the wake of reports that extreme heat in the U.S. Plains has killed thousands of head of cattle and resulted in a sharp jump in cash prices in northern markets.
Hogs: July lean hogs rose $1.65 to $108.275, the highest closing price since June 7. Nearby lean hogs rose a fourth consecutive session on renewed cash market strength. The CME lean hog index rose 73 cents to a 10-month high at $108.13 (as of June 13) and is expected to gain another 44 cents tomorrow.