Grain Futures Climb (6/28)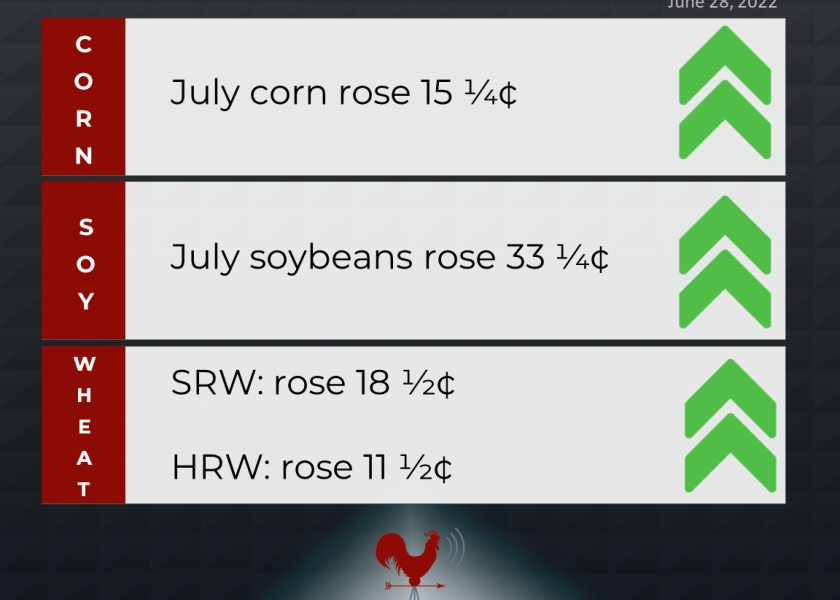 Corn: July corn futures rose 15 1/4 cents to $7.59 1/2, while December corn gained 6 1/4 cents to $6.59 1/4. Corn futures climbed as lower-than-expected USDA crop ratings stirred short covering and corrective buying. USDA reported 67% of the U.S. corn crop in either "good" or "excellent" condition as of Sunday, down from 70% a week earlier.
Soybeans: July soybeans jumped 33 1/4 cents to $16.63 3/4, while November soybeans surged 29 3/4 cents to $14.62 1/2. August soymeal gained $5.10 to $419.70 and August soyoil climbed 115 points to 69.00 cents. USDA rated 65% of the U.S. soybean crop in good-to-excellent condition as of Sunday, down from 68% a week earlier and contrary to expectations the number would hold unchanged.
Wheat: September SRW wheat rose 18 1/2 cents to $9.36 a bushel, up from Monday's four-month closing low, while September HRW wheat rose 11 1/2 cents to $9.90 1/4. September spring wheat fell 3 3/4 cents to $10.40 3/4. September SRW futures rose for the first time in four sessions as short-covering and bargain-hunting boosted wheat markets following sharp declines last week.
Cattle: August live cattle fell 75 cents to $132.725. August feeder futures fell $2.30 to $171.825. Recession fears weighed on cattle futures in the wake of a soft Consumer Confidence report that sent U.S. stocks tumbling.
Hogs: August lean hogs fell $1.05 to $103.825, closing near the session low. Hog futures were pressured by a sell-off in U.S. equities as a weak U.S. consumer confidence reading and recession concerns overshadowed continued strength in cash fundamentals. The CME lean hog index today reached $111.35, the highest since August, and is expected to gain another 27 cents tomorrow.