Grain Markets Roar Back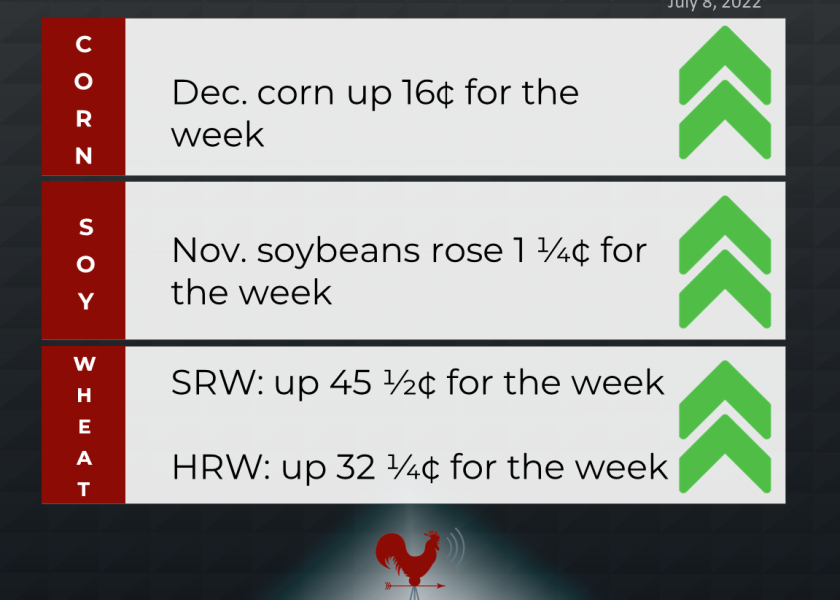 Corn: December corn surged 27 1/4 cents to $6.23 1/2, up 16 cents for the week. The corn market roared back from a steep, post-July-4-holiday slide to five-month lows with support from fund-driven corrective buying and bargain-hunting, as well as concern over an expected return of dry conditions to the Midwest beginning mid-July, which prompted traders to restore weather premium to prices.
Soybeans: November soybeans jumped 31 cents to $13.96 1/2, up 1 1/4 cents for the week. August soymeal rose $7.80 to $431.30 and August soyoil rose 97 points to 62.59 cents. Soybeans extended this week's sharp rebound amid forecasts for drier Midwest weather. USDA's weekly ratings Monday will indicate whether recent rains reversed a nearly month-long slippage in crop conditions.
Wheat: September SRW wheat rose 55 cents to $8.91 1/2, up 45 1/2 cents for the week. September HRW wheat rose 56 1/2 cents to $9.45 3/4, up 32 1/4 cents for the week. September spring wheat surged 57 1/4 cents to $9.91 3/4, up 45 3/4 cents for the week. Wheat led grain futures sharply higher to end the week amid bargain-buying and signs the recent price slump has stirred fresh global demand.
Cattle: August live cattle fell 60 cents to $133.95, down 65 cents for the week. August feeders fell 75 cents to $171.725, down $1.875 for the week. Live cattle slipped amid signs mid-week strength in cash was fading. Choice cutout values early today slipped 7 cents to $268.14 but appear poised to end firmly up from $263.82 a week ago.
Hogs: August lean hogs fell 32.5 cents to $109.175, still up $6.20 for the week. Hog futures posted a strong week as bullish technicals and easing concern over pork demand outweighed cash slippage. Wholesale pork strength this week suggested solid demand as retailers stocked up for mid-summer featuring at the meat counter. Pork cutout values today early today rose $2.02 to $114.21.