Grain, Soybean Futures End Lower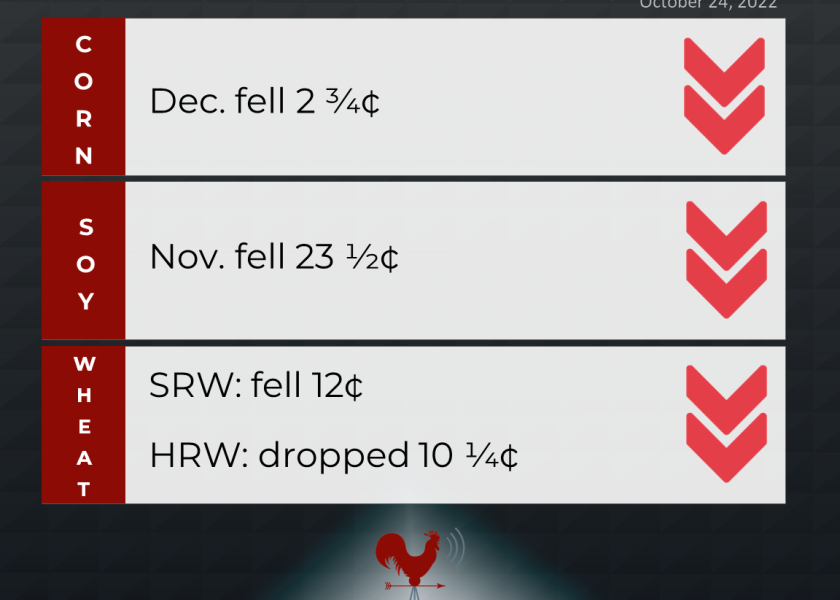 Corn: December corn fell 2 3/4 cents to $6.81 1/2, around the middle of the day's range. Corn fell amid pressure from a strong dollar, soft export demand and an accelerating U.S. harvest. USDA later today is expected to report the U.S. harvest at 62% complete as of Sunday, up from 45% a week earlier.
Soybeans: November soybeans fell 23 1/2 cents to $13.72. December soymeal fell $9.20 to $408.70. December soyoil rose 37 points to a four-month high at 71.87 cents. Harvest pressure and longer-term concerns over China and demand overshadowed strong export numbers. Earlier today, USDA reported 2.89 MT (106.1 million bu.) of soybeans inspected for export during the week ended Oct. 20, the largest weekly figure since November 2021.
Wheat: December SRW wheat fell 12 cents to $8.38 3/4. December HRW wheat dropped 10 1/4 cents to $9.38. December spring wheat futures fell 3 3/4 cents to $9.57 3/4. Wheat futures fell on U.S. dollar strength, weak export demand and prospects for moisture relief in the parched U.S. Plains.
Cattle: October live cattle rose $1.125 to $151.60, the highest close for a nearby contract since June 2015. December live cattle rose $1.70 to $154.125, a lifetime-high close. January feeder cattle rose $1.575 to $181.95. Live cattle rose for the sixth consecutive session and posted contract highs behind a strong cash market, bullish technicals and tight supply outlook. USDA-reported live steers averaged $150.07 last week, up from the previous week's average of $146.99 and the third consecutive weekly increase.
Hogs: December lean hogs fell $1.20 to $87.925, down from last Friday's two-month high. Hog futures fell in a corrective, profit-taking pullback in the wake of sharp gains the previous two weeks. Strong cash fundamentals and shrinking animal supplies continued to underpin prices. The CME lean hog index rose 29 cents to $94.05 and is expected to gain another 62 cents Tuesday, the benchmark's seventh gain in the past eight days.