Grain, Soybean Futures End Week on Firm Note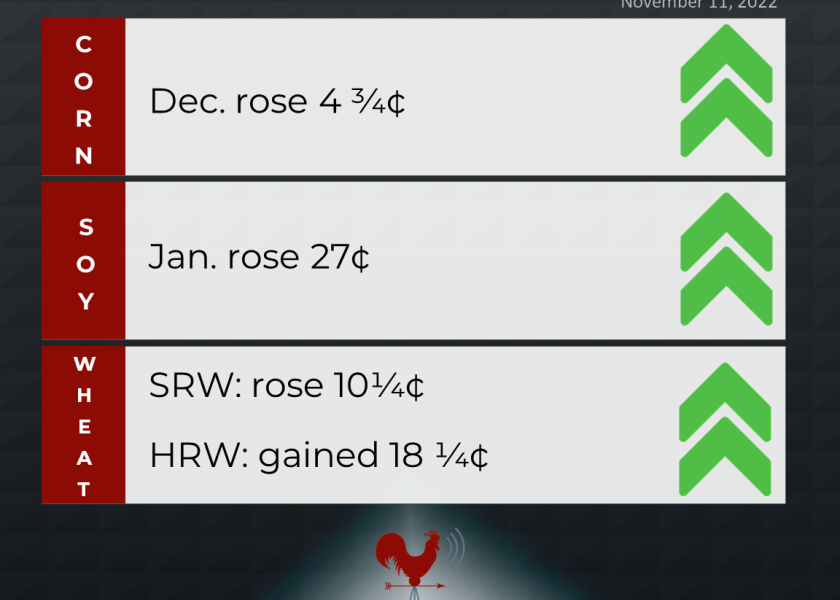 Corn: December corn rose 4 3/4 cents to $6.58, down 23 cents for the week and the contract's third lower weekly close in four. Corn joined a rally in soybeans as the U.S. dollar tumbled near a three-month low and China's easing of Covid restrictions fueled expectations for stronger demand.
Soybeans: January soybeans rose 27 cents to $14.50, still down 12 1/4 cents for the week. December soymeal rose $3.30 to $407.40. December soyoil rose 88 points to 76.97 cents, after posting a five-month high of 78.64 cents. Soybeans rallied in a corrective rebound from Thursday's losses, boosted by strength in soyoil and crude oil and prospects for increased demand from China.
Wheat: December SRW wheat rose 10 1/4 cents to $8.13 3/4 but fell 34 cents for the week. December HRW wheat gained 18 1/4 cents to $9.43 1/2, down 9 3/4 cents for the week. December spring wheat gained 14 1/4 cents to $9.45 3/4. Prices rose as the dollar's slump sparked corrective buying following wheat's drop to two-month lows earlier this week.
Cattle: December live cattle fell $1.55 to $151.525, down 12.5 cents for the week. January feeder cattle fell $3.125 to $178.575. Disappointing cash trade weighed on live cattle futures this week. Live steers averaged $151.86 through Thursday morning, down 12 cents from last week's average.