Grain, Soybean Futures Expected Higher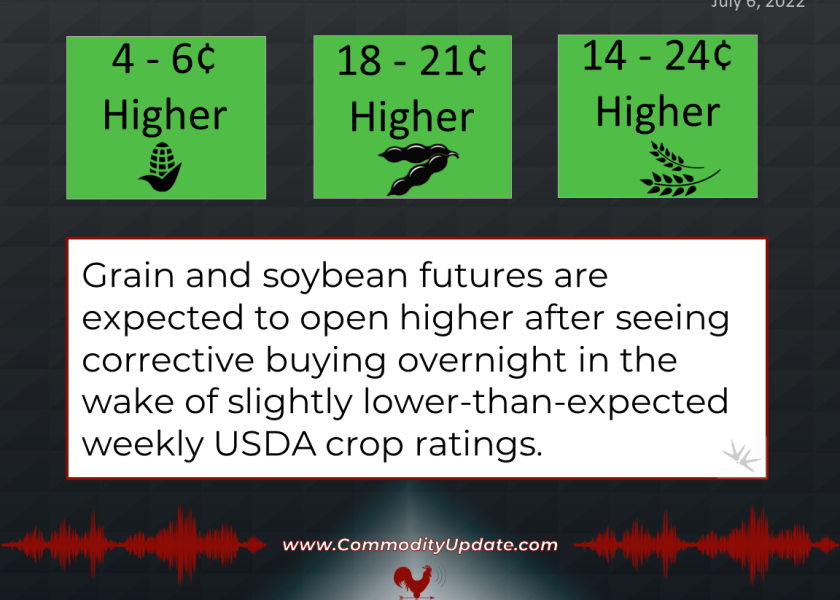 Corn: 4 to 6 cents higher.
Soybeans: 18 to 21 cents higher.
Wheat: 14 to 24 cents to higher.
Cattle: Steady-mixed
Hogs: Steady-firm
Grain and soybean futures are expected to open higher after seeing corrective buying overnight in the wake of slightly lower-than-expected weekly USDA crop ratings. Malaysian palm oil futures fell a fourth consecutive session, dropping 2.8% to the lowest level in nearly a year amid recession concerns. Front-month U.S. crude oil is slightly higher this morning. The U.S. dollar index is up more than 400 points this morning to a fresh 20-year high.
Parts of the Midwest received more rain overnight, with thunderstorms producing damaging winds in South Dakota and Iowa Tuesday afternoon through the evening, with concerns a derecho may have damaged some crops, World Weather Inc. said. "Losses should be low relative to the nation's entire crop with South Dakota most impacted," the forecaster said.