Grain, Soybean Futures Expected Lower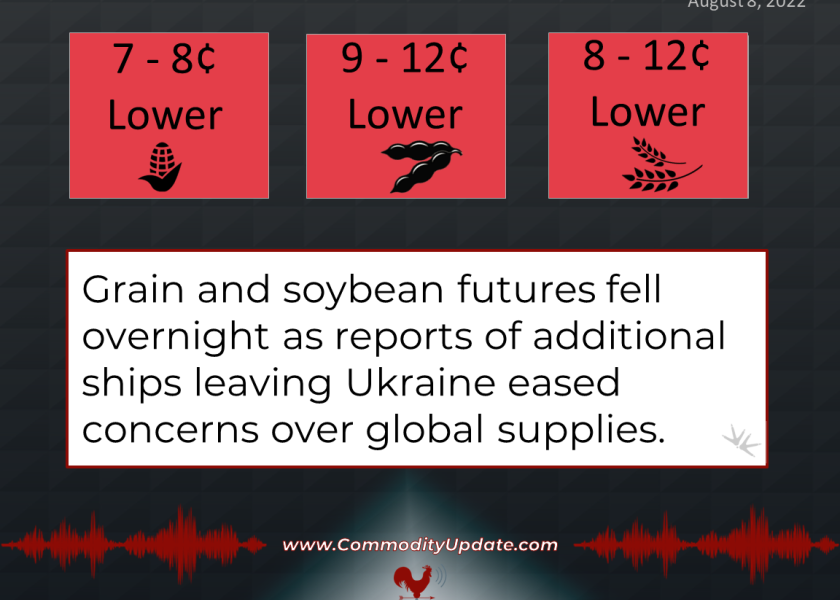 Corn: 7 to 8 cents lower.
Soybeans: 9 to 12 cents lower.
Wheat: 8 to 12 cents lower.
Grain and soybean futures fell overnight as reports of additional ships leaving Ukraine eased concerns over global supplies. Malaysian palm oil futures rose to the highest level in over a week behind strength in rival vegoils, while front-month crude oil was down about $1.50 and near six-month lows. U.S. stock index futures signal a firmer open, while the U.S. dollar index is down nearly 300 points.
Live cattle may gain support from last week's cash upturn. Traders appear cautiously optimistic cash cattle prices will work higher stronger than expected prices last week.
Lean hog futures may gain support from strong cash fundamentals and followthrough technical strength from last week's rally to 3 1/2-month highs. Today's CME lean hog index quote is up 48 cents to $122.09 (as of Aug. 4), just 59 cents shy of last year's high, which was posted in mid-June.