Grain, Soybean Futures Extend Sharp Declines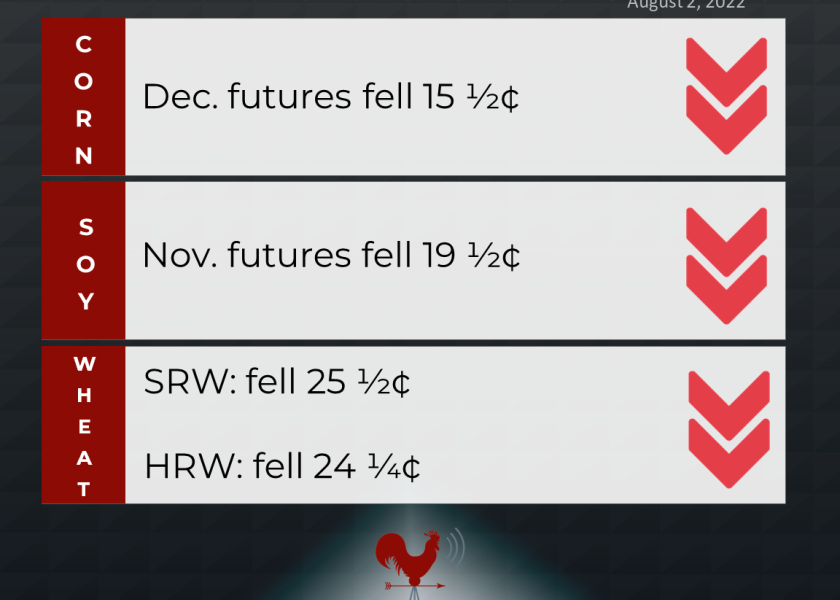 Corn: December corn futures fell 15 1/2 cents to $5.94 1/4, the lowest closing price since July 25. Corn fell as weather concerns eased slightly, weekly crop ratings topped expectations and Ukrainian grain shipments resumed. USDA reported 61% of the corn crop in "good" or "excellent" condition as of Sunday, unchanged from the previous week and one percentage point above expectations.
Soybeans: November soybeans fell 19 1/2 cents to $13.86 1/2, the lowest closing price since July 26. September soymeal rose $4.50 to $434.20. September soyoil fell 176 points to 62.33 cents. Soybean futures extended Monday's sharp losses and closed at the lowest levels in a week after USDA's weekly condition ratings came out better than expected.
Wheat: September SRW wheat fell 25 1/2 cents to $7.74 3/4. September HRW wheat fell 24 1/4 cents to $8.42 1/4. September spring wheat futures tumbled 24 1/4 cents to $8.73 1/4. Wheat remained under pressure amid reports of continued Ukrainian grain shipments out of the Black Sea, a stronger U.S. dollar and a general "risk-off" day in the broader marketplace.
Cattle: October live cattle fell 50 cents to $142.125, near the middle of today's range. September feeder cattle fell $1.65 to $181.45. Live cattle futures fell amid expectations the cash market will extend recent weakness. Feeder cattle erased initial gains fueled by weakness in corn.
Hogs: August lean hog futures fell 60 cents to $119.85 and October futures fell 60 cents to $96.225. Traders looks past continued cash market strength amid expectations for a downward cash trend during the second half of 2022. The CME lean hog Index rose 45 cents to a 14-month high at $121.87.