Grain, Soybean Futures Under Pressure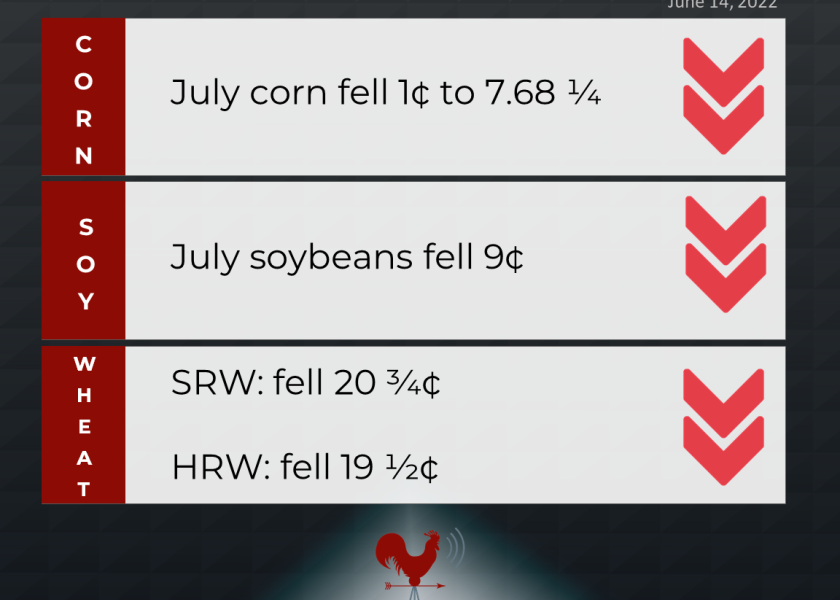 Corn: July corn fell 1 cent to $7.68 1/4, while December corn fell 1/4 cent to $7.21 1/4. Corn futures posted mild declines as a slumping U.S. stock market weighed on commodities, but extreme heat in the Midwest this week combined with a slight crop ratings decline may limit corn price weakness.
Soybeans: July soybeans fell 9 cents to $16.98 1/2, the contract's lowest closing price since June 3, while November futures fell 8 1/2 cents to $15.25 1/4. July soymeal sank $4.10 to $411.00 and July soyoil fell 123 points to 78.28 cents. USDA's initial soybean ratings of the season had 70% of the crop at "good" or "excellent," meeting trade expectations, while the crop was 88% planted as of Sunday.
Wheat: July SRW wheat fell 20 3/4 cents to $10.50 1/4, the contract's lowest closing price since June 3. July HRW wheat fell 19 1/2 cents to $11.42 1/4. July spring wheat fell 13 1/4 cents to $12.08 1/2. Winter wheat futures fell amid accelerating harvest pressure, dollar strength and escalating recession worries.
Cattle: August live cattle rose 20 cents to $134.075. August feeders slipped 2.5 cents to $171.30. Live cattle posted a modest corrective bounce from Monday's sharp declines but may face limited upside potential amid expectations for weaker cash and concerns a potential recession will hurt beef demand.
Hogs: June lean hogs expired today at $108.45, up 45 cents. July hogs fell 5 cents to $106.625. Hog futures ended mostly lower amid ideas the cash market has put in a seasonal top. While the CME lean hog index for Wednesday (as of June 13) is projected to rise 73 cents to $108.13, pork cutout values sank $2.23 early today to $109.15.