Improving Argentine Weather Forecasts Weigh on Grain, Soy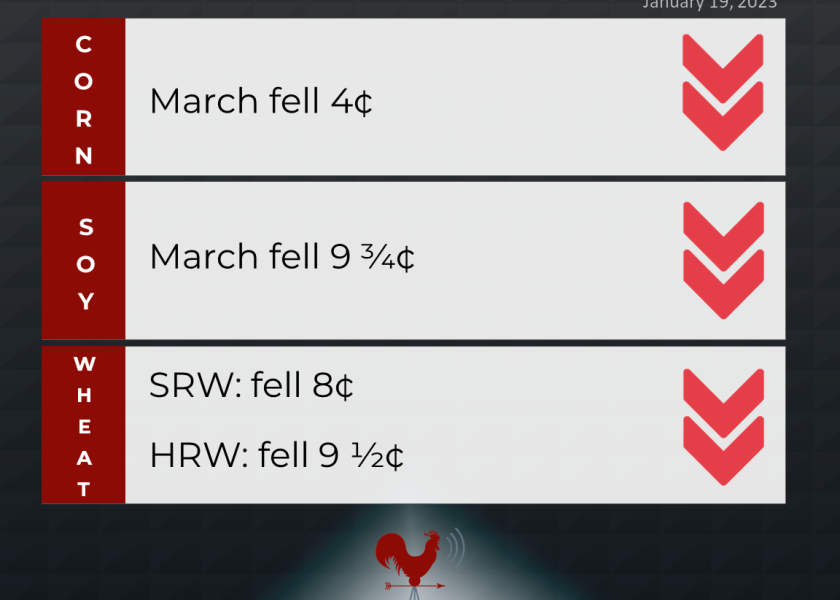 Corn: March corn fell 4 cents to $6.77 1/4, near the session low. Corn futures spent the overnight session trading either side of unchanged but was able to work a bit higher following a daily U.S. export sale to Mexico for 195,000 MT, for delivery during the 2022-23 marketing year.
Soybeans: March soybeans fell 9 3/4 cents to $15.14 3/4. March soybean meal declined $6.90 to $471.20. March bean oil closed down 97 points at 63.15 cents. All three markets' prices closed nearer their session lows. More routine profit-taking from the shorter-term speculators was featured today after soybean futures prices hit a seven-month high and meal futures scored a contract high on Wednesday.
Wheat: March SRW fell 8 cents to $7.34 1/2, the lowest close since Jan. 10. March HRW fell 9 1/2 cents to $8.32, while March spring wheat rose 3 cents to $9.04. SRW futures found moderate support early in the session but failed to hold onto gains despite supportive outside markets as crude oil futures continue to linger around $80.00 per barrel while the U.S. dollar index grinds sideways to lower.
Cattle: Cash weakness triggered fresh selling in cattle futures Thursday, with nearby February futures dropping 85 cents to $155.95 and most-active March feeder futures diving $1.625 to $180.10. Beef packers apparently persuaded a Nebraska feedyard manager to take about $3.00 less for his cattle Wednesday, with the $153.33 price triggering active futures sales and likely setting the stage for weaker cash trading across the Plains today and tomorrow.
Hogs: The hog market continued losing ground Thursday, with the nearby February contract falling 67.5 cents to $76.65. The hog and pork complex's holiday hangover persisted Thursday, with the nearby February contract posting its thirteenth decline in the past fifteen trading sessions.