July SRW Wheat Plunged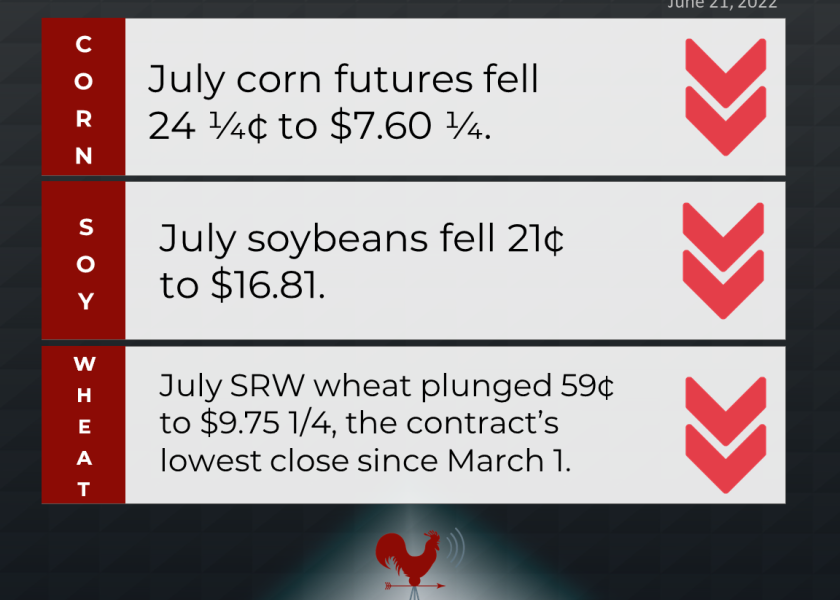 Corn: July corn futures fell 24 1/4 cents to $7.60 1/4, while December corn fell 27 1/4 cents to $7.03 3/4, the contract's lowest closing price since June 3. Corn tumbled on spillover from sharp losses in wheat and an outlook for less-threatening weather in the Midwest. USDA late today reported 70% of the U.S. crop in "good" or "excellent" condition as of Sunday, down from 72% from a week earlier and meeting expectations.
Soybeans: July soybeans fell 21 cents to $16.81, while November soybeans fell 27 cents to $15.10 1/2, the lowest close since May 31. July soymeal fell $6.80 to $431.30. July soyoil fell 42 points to 73.37 cents, a two-month low. Soybean futures tumbled on spillover from slumping corn and wheat and an outlook for crop-friendlier weather. USDA's good-to-excellent rating for soybeans fell to 68% as of Sunday from 70% a week earlier and about 1 percentage point lower than expected.
Wheat: July SRW wheat plunged 59 cents to $9.75 1/4, the contract's lowest close since March 1. July HRW wheat sank 63 3/4 cents to $10.41 1/4. July spring wheat fell 51 3/4 cents to $11.17 3/4. Winter wheat futures fell as accelerating harvest pressure fueled long liquidation. USDA said winter wheat harvest was 25% harvested as of Sunday, up from 10% a week earlier and about 2 percentage points higher than expected.
Cattle: August live cattle fell 32.5 cents to $136.25. August feeder futures surged $2.35 to $175.30. Live cattle futures eased amid ideas last week's Plains heat-driven cash strength will be temporary, while feeder cattle surged as slumping corn signaled cheaper feed costs.
Hogs: July lean hogs rose $1.725 to $112.725, the contract's highest close since April 28. August hogs rose $1.925 at $109.80. Improving cash market fundamentals fueled gains. The CME lean hog index rose 41 cents to $109.16, a 10-month high, and tomorrow's quote is projected to rise another $1.29.