Morning Calls & Comments (7/28)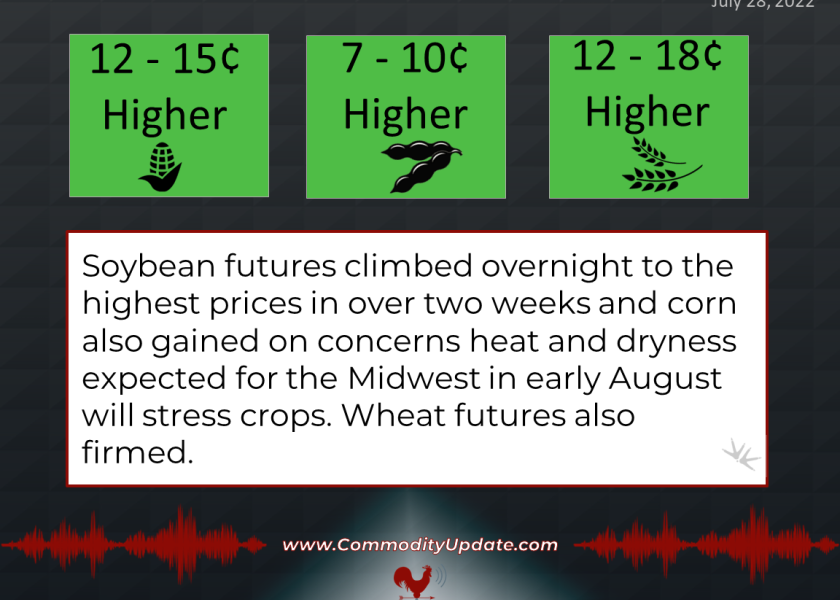 Corn: 12 to 15 cents higher.
Soybeans: 7 to 10 cents higher.
Wheat: 12 to 18 cents higher.
Cattle: Steady-weaker
Hogs: Steady-firmer
Soybean futures climbed overnight to the highest prices in over two weeks and corn also gained on concerns heat and dryness expected for the Midwest in early August will stress crops. Wheat futures also firmed. Malaysian palm oil futures rose 3.5%, gaining for a third straight session, while front-month crude oil futures were up around $2. U.S. stock index futures signal a weaker open, while the U.S. dollar index is up more than 150 points.
The U.S. economy contracted again in the second quarter, with gross domestic product falling at a 0.9% annualized rate, the Commerce Department said in its advance estimate today. The weaker-than- expected figure will further fuel concerns the economy has entered a recession, which is often defined as two consecutive quarterly declines in GDP. Economists polled by Reuters had forecast GDP rebounding at a 0.5% rate.