November Soybeans Soar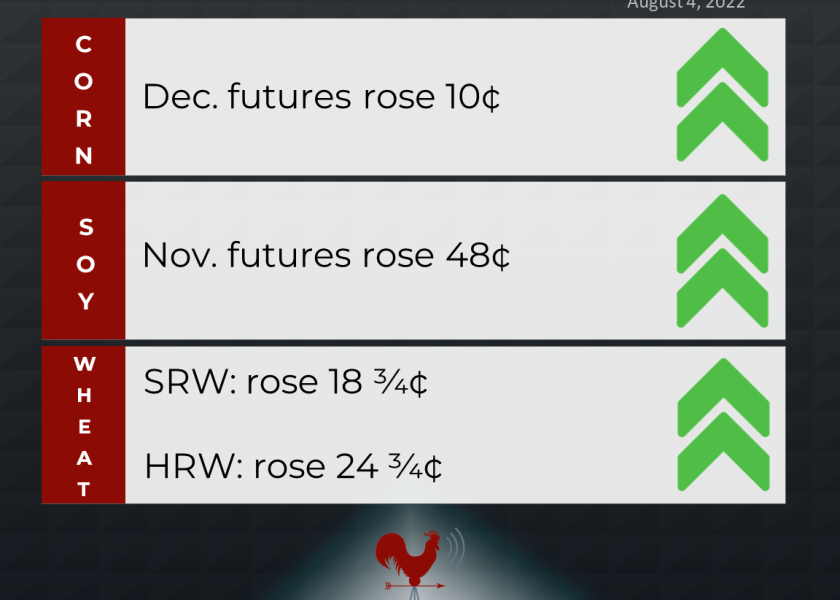 Corn: December corn futures rose 10 cents to $6.06 1/4. December futures rose a second consecutive day behind spillover from strength in wheat and the soy complex. Weakness in the U.S. dollar also supported grain futures, though Midwest weather leans slightly bearish for corn prices.
Soybeans: November soybeans rose 48 cents to $14.17 3/4, the highest close since July 29. September soymeal surged $22.10 to $453.50, a lifetime-high close for the contract. September soyoil rose 63 points to 62.45 cents. Soybean futures rose for the first time in four sessions behind a sharp rally in soymeal and lingering concerns dryness in parts of the Midwest could curb yield potential.
Wheat: September SRW wheat rose 18 3/4 cents to $7.82 1/2. September HRW wheat rose 24 3/4 cents to $8.60 1/4. September spring wheat rose 19 cents to $8.94 1/4. Winter wheat futures rose for the first time in five sessions behind corrective buying following Wednesday's drop to six-month lows and spillover from sharp gains in the soy complex.
Cattle: October live cattle fell 30 cents to $143.65. September feeders fell 32.5 cents to $182.575. Live cattle fell in a modest corrective setback from Wednesday's rally to three-month highs, with a resurgent cash market limiting selling interest. The average live steer price this week through Wednesday approached $142.00, up over $2 from last week's average.
Hogs: October lean hogs rose $1.75 to $97.60, the contract's highest closing price since April 22. Prices rose behind solid weekly export sales and firm cash market fundamentals. The CME lean hog index fell 63 cents to $120.94 (as of Aug. 2) but remains near a 14-month high.