Soybean, Corn Futures End Higher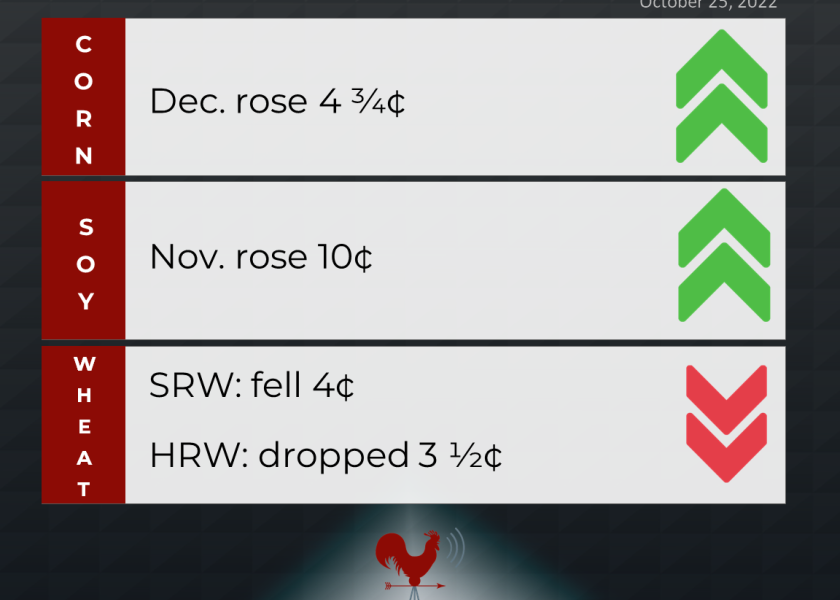 Corn: December corn rose 4 3/4 cents to $6.86 1/4, the highest close since Oct. 19. Corn futures erased overnight declines and ended higher with support from soy complex strength and outside markets, as the U.S. dollar weakened sharply and crude oil firmed.
Soybeans: November soybeans rose 10 cents to $13.82. December soymeal rose $6.90 to $415.60. December soyoil rose 41 points to 72.28 cents, the contract's highest close since June 16. Soybeans rebounded from Monday's sharp losses behind strength in soymeal and easing pressure from the mostly completed U.S. harvest.
Wheat: December SRW wheat fell 4 cents to $8.34 3/4, the contract's lowest close since Sept. 19. December HRW futures fell 3 1/2 cents to $9.34 1/2. December spring wheat fell 5 1/2 cents to $9.52 1/4. Expectations rain in the U.S. Plains could boost the recently-seeded crop pressured winter wheat.
Cattle: December live cattle fell 82.5 cents to $153.30. November feeder cattle dropped $1.225 at $177.925. Live cattle fell for the first time in seven sessions on corrective selling following steep gains over the past week. Expectations for further cash market strength this week likely will limit futures weakness after USDA-reported live steers averaged $150.07 last week, the highest since mid-2015.
Hogs: December lean hogs rose 52.5 cents to $88.45. Hogs rose for the sixth time in the past eight sessions behind strong cash and bullish technicals. The CME lean hog index rose 62 cents to $94.67, the seventh increase in the past eight days, and Wednesday's quote is expected to rise another 14 cents.