Soybean Futures Climb Near Four-Week High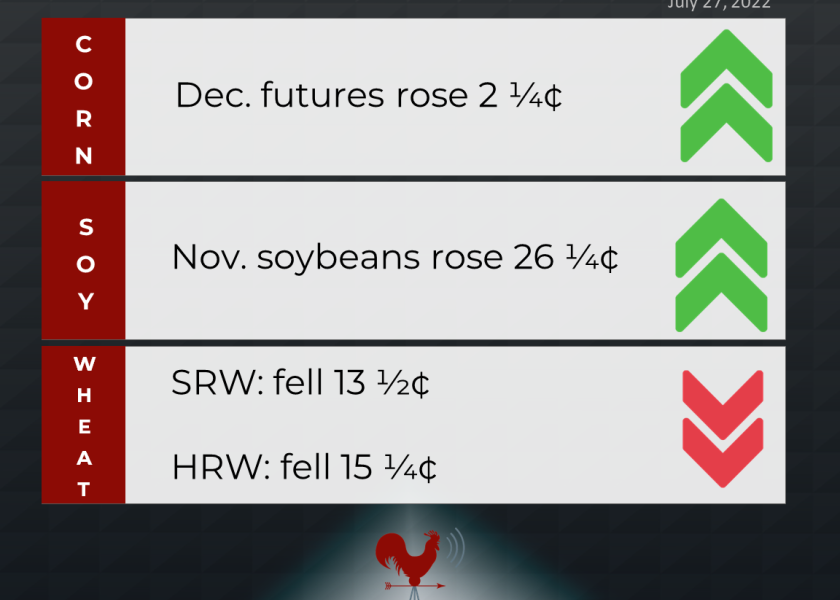 Corn: December corn rose 2 1/4 cents to $6.03, the contract's highest closing price since $6.10 3/4 on July 18. Corn rose a third consecutive day on spillover support from gains in soybeans, which rallied on concern a return of extreme heat to the Midwest next week will harm yield potential.
Soybeans: November soybeans jumped 26 1/4 cents to $14.10, the contract's highest close since June 30. September soymeal rose $11.00 to $446.00. September soyoil rallied 106 points to 59.85 cents. Soybeans gained a fourth straight day on concern heat and dryness forecast for the Midwest during the first 10 days of August may harm yield potential.
Wheat: September SRW wheat fell 13 1/2 cents to $7.90 1/4. September HRS futures fell 15 1/4 cents to $8.61 3/4. September spring wheat fell 18 3/4 cents to $9.10. Spring wheat led declines as the Wheat Quality Council's annual crop tour projected above-average yields for North Dakota.
Cattle: August live cattle fell 7.5 cents to $136.80, while October futures fell 5 cents to $142.325. August feeder cattle rose $1.675 to $179.10. Nearby live cattle fell slightly amid expectations the cash market will extend a three-week slide. Futures remained underpinned by signs domestic beef demand is holding up reasonably well despite widespread recession concerns.
Hogs: August lean hogs rose $1.625 to $118.60, while October futures surged $2.80 to $96.45, a three-month closing high. Strength in cash fundamentals continued to underpin futures. The CME lean hog index rose 35 cents to $119.48, the highest level since June 2021, and is expected to gain another 25 cents tomorrow.