Soybean Futures Drop Amid Favorable Weather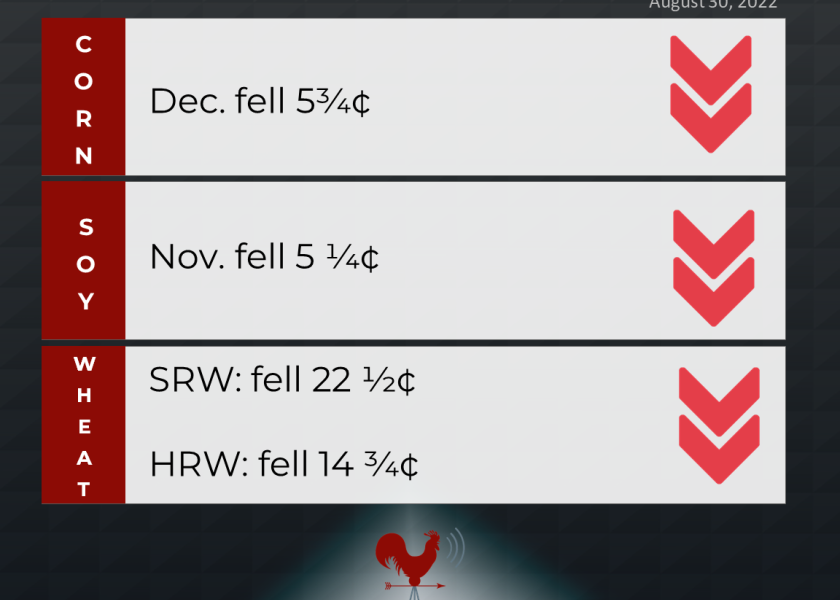 Corn: December corn fell 5 3/4 cents to $6.77 1/4. Corn futures fell on profit-taking following Monday's rally to two-month highs, with weakness in U.S. equities and a drop of over $5 in crude oil futures contributing to pressure on grain markets. The Midwest weather outlook is mostly favorable for late crop development, mitigating another decline in weekly USDA condition ratings.
Soybeans: November soybeans fell 5 1/4 cents to $14.32 1/2, the contract's lowest closing price since Aug. 19. December soymeal dropped $2.60 to $424.50. December soyoil fell 9 points to 65.35 cents. Soybeans fell to the lowest levels in over a week after USDA's weekly crop ratings didn't post a decline as analysts expected and the Midwest weather remained largely favorable for crop development.
Wheat: December SRW wheat fell 22 1/2 cents to $8.20 1/4. December HRW wheat fell 14 3/4 cents to $8.97 3/4. December spring wheat fell 12 3/4 cents to $9.20 1/2. Wheat futures were burdened by corrective selling following Monday's rally to multi-week highs, along with spillover pressure from weakness in crude oil and U.S. equities.
Cattle: October live cattle rose 92.5 cents to $143.825. October feeder cattle gained $2.20 to $183.275. Live cattle futures climbed in a corrective bounce from Monday's drop to four-week lows, while feeders were supported by weakness in corn and soymeal.
Hogs: October lean hogs rose $1.35 to $93.60, the highest closing price in over a week. Hogs rose on followthrough buying from Monday's strong close, fueled further by the October contract's wide discount to the cash index. The index fell $2.06 to $111.26 (as of Aug. 26), the lowest since July 12, and Wednesday's quote is expected to fall another $1.90. Pork cutout values fell 41 cents to $102.16, the lowest daily average since May 17, but movement was strong at 355 loads.