Soybean Futures Drop Sharply; Corn & Wheat also Lower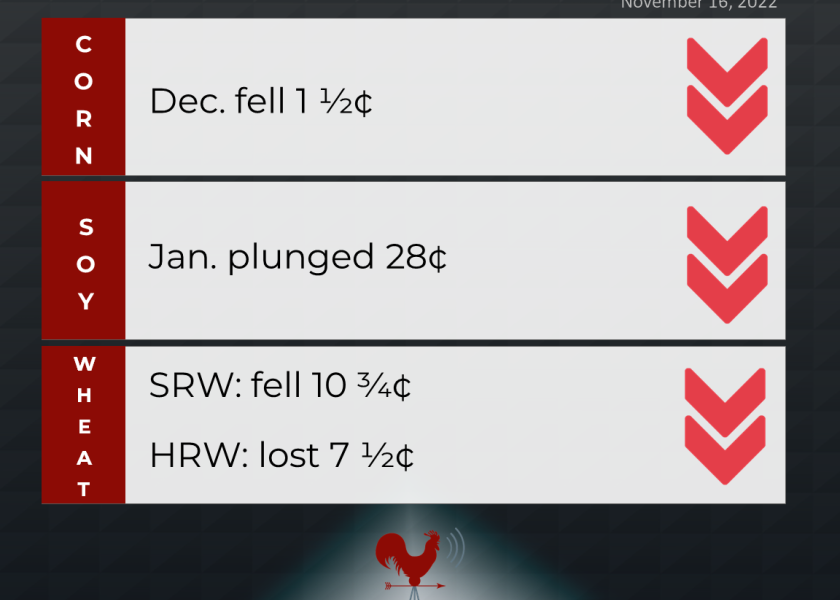 Corn: December corn fell 1 1/2 cents to $6.65 1/4. Corn fell with soybean and wheat markets amid increasing confidence the Ukraine grain export deal will be extended. Early today, USDA reported a daily corn sale of 1.867 MMT for delivery to Mexico, the fifth largest daily corn sale on record.
Soybeans: January soybeans plunged 28 cents to $14.29 1/4. December soymeal fell $3.30 to $406.60. December soyoil fell 290 points to 74.08 cents. Soybeans tumbled on pressure from weakness in crude oil and a sharp drop in soyoil. Pressure also stemmed from mostly favorable growing conditions in South America.
Wheat: December SRW wheat fell 10 3/4 cents to $8.17 1/2. December HRW wheat lost 7 1/2 cents to $9.55 1/2. December spring wheat fell 8 1/2 cents to $9.65 1/2. SRW wheat futures posted a loss for the first time in four sessions as optimism over an extension of the Ukraine export deal eased concern over tight global supplies.
Cattle: December live cattle rose 52.5 cents to $151.80. January feeders gained 45 cents to $177.475. Live cattle rebounded from Tuesday's drop to four-week lows amid signs of cash market strength. Futures' gains suggest accelerating cash activity that could lift prices $1 to $2 over last week's levels.
Hogs: December lean hogs rose 25 cents to $85.575. Hogs extended sideways trade as eroding cash fundamentals and seasonal weakness tied to rising slaughter weighed on prices. The CME lean hog index fell 16 cents to $88.49, the lowest since mid-February, and Thursday's reading is expected to fall another 31 cents.