Soybean Futures End Higher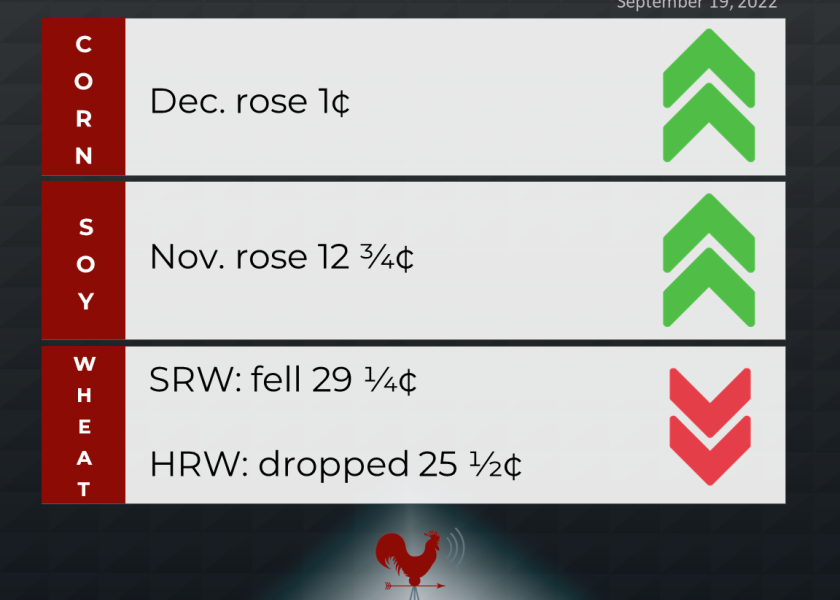 Corn: December corn rose 1 cent to $6.78 1/4, the contract's first gain in five sessions. Corn futures posted modest advances after dropping earlier on sharp declines in the wheat market and strength in the U.S. dollar. Late season Midwest weather is largely favorable for crop maturation and early harvesting. Late today, USDA reported 7% of the U.S. crop was harvest as of Sunday, up from 5% a week earlier but slightly behind the 8% average for the previous five years. Harvest progress also fell short of expectations for about 10%.
Soybeans: November soybeans rose 12 3/4 cents to $14.61 1/4, its first gain in five sessions. December soymeal rose $7.60 to $429.30. December soyoil fell 80 points to 65.16 cents. Soybean futures rebounded from overnight declines behind signs of improvement in export demand. Early today, USDA reported a daily soybean sale of 136,000 MT for delivery to China during the 2022-23 marketing year. USDA reported 3% of the U.S. crop was harvested as of Sunday, short of the 5% five-year average and analyst expectations, also 5%.
Wheat: December SRW wheat fell 29 1/4 cents to $8.30 1/2, the contract's lowest closing price since Sept. 8. December HRW wheat dropped 25 1/2 cents to $9.09 3/4. December spring wheat fell 20 1/2 cents to $9.18 1/4. Wheat futures fell on reports of increasing grain shipments from Ukraine and an outlook for strong production in Russia. Late today, USDA reported 21% of the winter wheat crop was planted as of Sunday, up from 10% a week earlier and ahead of the five-year average of 17%. Analysts expected a planting number at 20%.
Cattle: October live cattle rose 22.5 cents to $145.725, after earlier rising to $146.275, the highest intraday price for a nearby contract since August 2015. October feeder cattle rose $1.05 to $182.30. October live cattle ended with a modest gain on expectations for continued cash market strength.
Hogs: October lean hogs fell 42.5 cents to $96.475 after reaching a four-week high earlier. Hogs fell on profit-taking following last week's strong gains even as cash market fundamentals continued to improve. The CME lean hog index rose 20 cents to $97.97 (as of Sept. 15) and Tuesday's index is expected to rise another 45 cents.