Soybean Futures Jump Near 2-Week Highs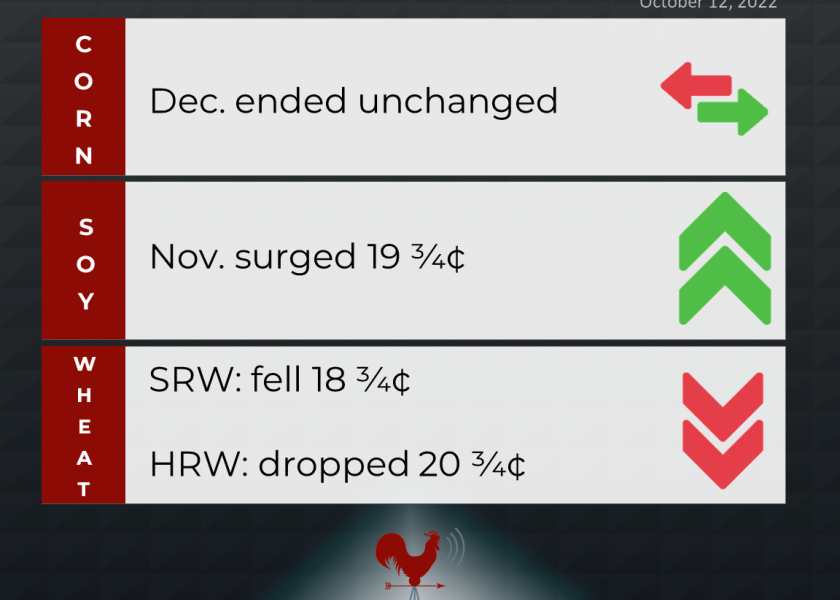 Corn: December corn ended unchanged at $6.93. Corn ended mixed after USDA's Crop Production and Supply and Demand reports carried few major surprises. USDA lowered its U.S. corn production forecast by 49 million bu. to 13.895 billion bu., smaller than analyst expectations for a cut closer to 59 million bu. The estimated average U.S. yield was lowered 0.6 bu. to 171.9 bu. per acre.
Soybeans: November soybeans surged 19 3/4 cents to $13.96, the contract's highest close since Sept. 29. December soymeal rose $8.30 to $414.30. December soyoil rose 12 points to 65.59 cents. Soybeans rose near a two-week high after USDA unexpectedly lowered its estimate for the U.S. soybean crop, fueling concern over tight supplies with the country's stockpiles already heading for a seven-year low.
Wheat: December SRW wheat fell 18 3/4 cents to $8.82 1/4. December HRW wheat dropped 20 3/4 cents to $9.70. Prices closed nearer the session lows today. December spring wheat fell 18 1/2 cents to $9.66 3/4. Wheat futures extended Tuesday's losses after USDA, in its monthly Supply and Demand update today, made a lower than expected reduction in 2022-23 U.S. ending stocks.
Cattle: December futures fell 12.5 cents to $148.45. November feeder futures advanced 47.5 cents to $176.675. Cattle futures posted a mixed performance amid uncertainty over the direction of cash trade.
Hogs: December lean hogs rose $1.175 to $80.70, the contract's highest settlement since Sept. 23. Hog futures extended the recent rally as stronger technicals overshadowed mixed signals from the cash market. The CME lean hog index fell 3 cents today to $92.95 (as of Oct. 10) and is expected to drop another 46 cents Thursday.