Soybean Futures Lower on Favorable Midwest Weather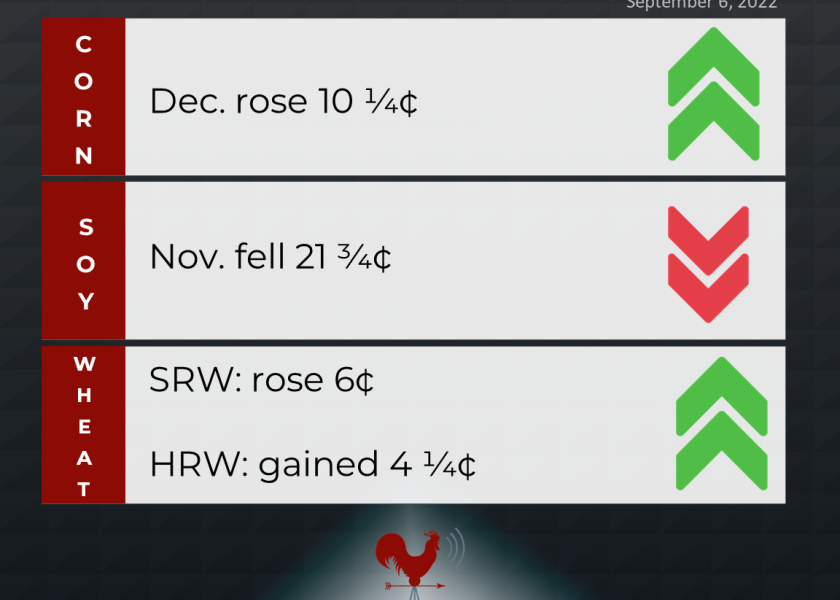 Corn: December corn futures rose 10 1/4 cents to $6.76, the contract's highest closing price since Aug. 30.  Corn futures rose as a reduced yield outlook stemming from extreme heat earlier this summer continued to support prices. USDA's weekly crop condition ratings later today are expected to reflect further deterioration. The corn crop's combined good-to-excellent rating is expected to drop to 53% as of Sunday from 54% a week earlier, based on a Reuters survey of analysts.
Soybeans: November soybeans fell 21 3/4 cents to $13.98 3/4. December soymeal fell $10.90 to $406.80. December soyoil dropped 297 points at 63.28 cents. Soybeans were pressured by mostly favorable Midwest weather and strength in the U.S. dollar. Further pressure stemmed from Argentina raising the exchange rate for its soybean exports in a bid to increase shipments.
Wheat: December SRW wheat rose 6 cents to $8.17, near the top of today's range. December HRW wheat rose 4 1/4 cents to $8.82. December spring wheat fell 1/4 cent to $8.89 3/4. Winter wheat ended higher following two-sided trade, as strength in the corn market helped overshadow the U.S. dollar's jump to a fresh 20-year high and prospects for stronger global production.
Cattle: October live cattle rose 50 cents at $145.05, the highest closing price since Aug. 19. October feeder cattle gained $1.15 at $186.10. Cattle futures rose behind technical followthrough from Friday's strong close, which offset gains in corn futures and a rally in the U.S. dollar index to another 20-year high. Further price upside may be limited by recent weakness in cash cattle prices.
Hogs: October led hog futures rose $1.075 to $91.10, after falling earlier near a two-month low. Hog futures rose in a corrective rebound following last sharp drop. Today's buying may have reflected easing concern over the short-term cash outlook, possibly due to lower slaughter last week.