Soybean Futures Surge to Four-Week High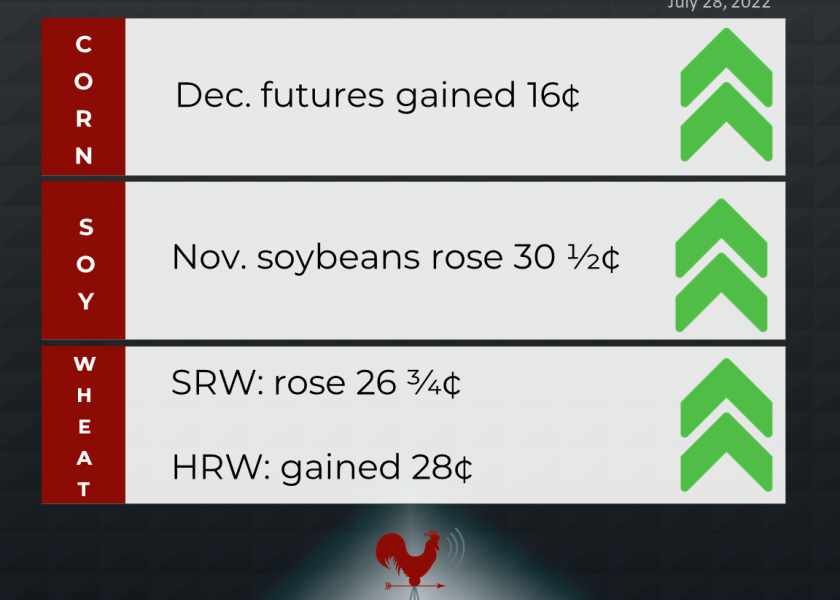 Corn: December corn gained 16 cents to $6.19, the contract's highest closing price since July 11. December corn rose a fourth consecutive session, boosted by rallying soybeans and forecasts for hot, dry conditions across much of the Midwest the first 10 days of August.
Soybeans: November soybeans jumped 30 1/2 cents to $14.40 1/2, the contract's highest close since June 30. August soymeal rose 80 cents to $489.70 and August soyoil surged 466 points to 65.84 cents, a four-week high. Soybeans rose a fifth straight session on soyoil strength and concern an impending Midwest heat wave will crimp yield prospects just as the crop begins critical reproductive phases.
Wheat: September SRW wheat rallied 26 3/4 cents to $8.17, the highest close since July 20. September HRW wheat gained 28 cents to $8.89 3/4, a 2 1/2-week closing high. September spring wheat rose 18 cents to $9.28. Wheat followed corn and soybeans higher as traders watched Ukraine, with the first shipment of grain from the country's Black Sea ports possibly departing as early as Friday.
Cattle: October live cattle fell 50 cents to $141.825. September feeders fell $1.65 to $180.20. Cattle futures fell a third session amid expectations for a fourth straight week of lower cash prices. Wholesale beef prices extended a mostly sideways trend during the second half month.
Hogs: August lean hogs rose 52.5 cents to $119.125, the highest close since April 19. Deferred contracts ended lower, with October hogs down 12.5 cents at $96.325. August hogs extended a two-week rally as cash fundamentals remained firm. The CME lean hog index rose 25 cents to $119.73 (as of July 26), a 13-month high.