Soybean Futures Tumble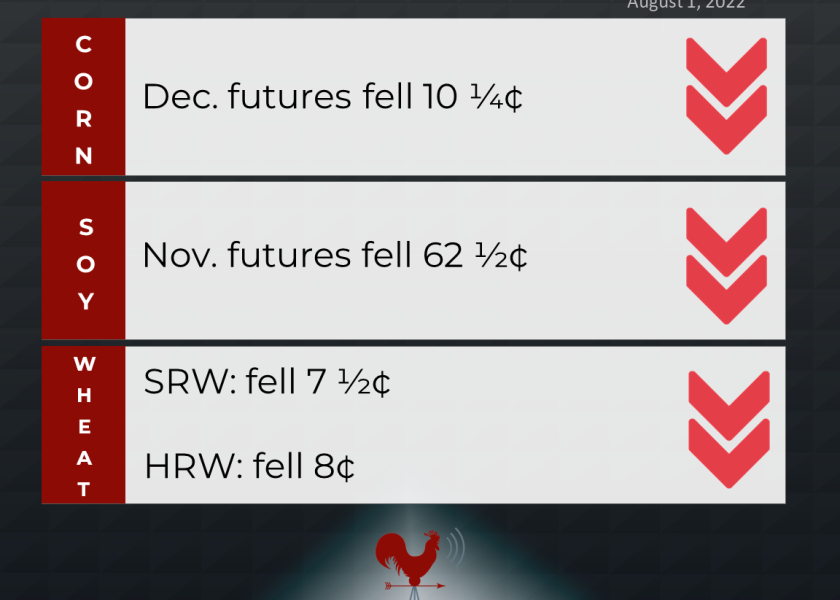 Corn: December corn futures fell 10 1/4 cents to $6.09 3/4. Corn futures fell in sympathy with a sharp drop in the soy complex, as Midwest weather forecasts appeared slightly less threatening compared to late last week. Late today, USDA reported 61% of the U.S. corn crop in "good" or "excellent" condition, unchanged from the previous week and one percentage point above trade expectations.
Soybeans: November soybeans fell 62 1/2 cents to $14.06. September soymeal plunged $12.70 to $429.70. September soyoil declined 241 points to 64.09 cents. The soy complex fell sharply on profit-taking following last week's steep rally. USDA reported 60% of the soybean crop in good-to-excellent condition, an unexpected improvement from 59% a week earlier. Analysts expected a drop to 58%.
Wheat: September SRW fell 7 1/2 cents to $8.00 1/4. September HRW settled 8 cents lower at $8.66 1/2, while December spring wheat fell 8 1/4 cents to $9.10 1/4. Wheat futures fell as the departure of a grain shipment from the Ukrainian port of Odesa raised optimism over global supplies. USDA reported 70% of the spring wheat crop in good-to-excellent condition, up from 68% a week earlier and above analyst expectations for a drop to 67%.
Cattle: October live cattle rose 40 cents to $142.625. September feeder cattle rose $1.55 to $183.10. Cattle futures were supported by a drop in corn prices and chart-based speculator buying, along with signs beef demand is holding up. Choice beef cutout values early today rose $1.26 to $270.50.
Hogs: October lean hogs fell 40 cents to $96.825. Hogs fell under profit-taking following strong gains last week, though the market remains underpinned by cash strength. The CME lean hog index rose 84 cents to $121.42 (as of July 28), just $1.26 below last year's mid-June peak at $122.68. Tomorrow's index is expected to rise another 45 cents to $121.87.